12.05.07
home | metro silicon valley index | the arts | books | review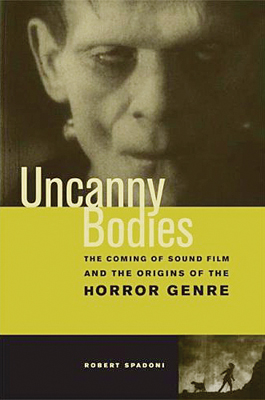 Uncanny Bodies:
The Coming of Sound Film and the Origins of the Horror Genre
Review by Michael S. Gant
Nowadays, we laugh at the gap between moving lips and dialogue in badly dubbed foreign films. In Uncanny Bodies, Robert Spadoni argues that during the silents-to-sound era of 1927–1931, movie audiences had to make a perceptual adjustment to accept the idea of synchronized sound. Audiences of the time found early talkies to be jarring, even mysterious. Actors' lips would move, and their voices could be heard from a speaker behind the screen, but viewers had a hard time processing this as a united experience. The vagaries of early sound technique baffled viewers : "Something seemed to be wrong with the status of the human figure in sound film." The weirdness of the new technology reminded audiences of the weirdness of early silent cinema, when they were learning how to experience moving images. As Spadoni writes, "The mechanical marvel that astonished and disturbed viewers at the start of cinema history astonished and disturbed them again 30 years later." Actors in early sound movies could appear to be ghostly, or "uncanny," because they reminded people of the artificial nature of figures on a flat screen. This sense of strangeness was exploited by early horror films—especially Todd Browning's Dracula and James Whale's Frankenstein—to lend extra spookiness to the tales. These two films kicked off the horror genre, and some of their techniques lingered even after audiences grew accustomed to sound synchronization. Spadoni's analysis is intriguing if sometimes a bit tenuous. Much of his theory is based interpreting the responses of film reviewers of the time, but the first impressions of reviewers have to be taken with a fair amount of skepticism. Still, the book points to the important question of "reception" theory, i.e., how do we learn to perceive new forms of representation. With digital formats, small screens and Internet streaming, film viewers are absorbing new ways of understanding the traditional big-screen, communal experience that defined filmgoing for the 20th century. (By Robert Spadoni; UC Press; 190 pages; $24.95 paper)
Send a letter to the editor about this story.