12.05.07
home | metro silicon valley index | silicon valley restaurants | review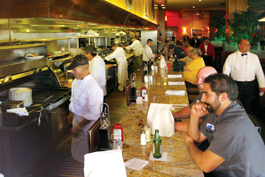 Photograph by Felipe Buitrago
COUNTER OFFER: Original Joe's hasn't lost any of the classic touches that made it an institution.
Eat at Joe's
Even after a remodel, downtown institution is still the original
By Stett Holbrook
YOU CAN complain all you want that San Jose lacks a real urban vibe, but don't blame Original Joe's. For 51 years, they've been serving classics of American and Italian-American food with heaping portions of big city attitude and glamour. Walk into Original Joe's for dinner or a late meal after a night at the bars and the plush booths and long counter will transport you to San Francisco, Chicago or New York. This past summer Original Joe's underwent an extensive remodel and seismic upgrade. It was a major event for the downtown San Jose institution.
From the outside, the brick facade building looks about the same, but inside the place got a real face-lift. New booths were installed. A second bar was built upstairs to handle the overflow on busy weekend nights. The long, resplendent counter was refinished in granite and for some reason the men's and ladies' rooms were reversed. The bar in back is still crowded with old pros and a few novices trying to keep up.
What changes were made to the menu after five decades of business? Maybe something trendy like ahi tartar or a grilled chicken panini? Fuggedaboutit. There are two new items on the menu: "Joe's dog" ($9.95) and "the Arata," a hot roast beef and cheese sandwich ($13.95). Not exactly cutting edge, but if you want trendy you've come to the wrong place.
"We wanted to keep it original," said a waiter when asked why the menu remains largely unchanged. And that they did.
The first Original Joe's opened in San Francisco in 1937. In 1956, partners from the San Francisco restaurant, Louis J. Rocca, Louis J. Rocca Jr. (Babe), Arthur Tortore (Otto) and Anthony Caramagno (Nino), opened Original Joe's in San Jose. The restaurant is still run by the Rocca family.
In spite of the remodel, the restaurant still has its Sinatra-era Vegas swagger and oozes old-school charm. All of the classic dishes are still here like Joe's special (spinach, eggs and ground beef, $13.95), the Wednesday night osso bucco ($15.95) and the infamous cheeseburger sandwich ($11.95). The 12-ounce slab of meat is a sight to behold. The rectangular patty is cooked over mesquite coals and served on a crusty French roll unadorned. If you want fancy stuff like lettuce and tomatoes, you gotta ask, but the thick-cut steak fries that come with it are great as long as they're served hot. The beast takes a while to cook, so don't be in a hurry. As my waiter slid a hulking cheeseburger across the counter toward me, he said, "Save room for dessert."
It was more of a taunt than friendly advice. These professional, no-nonsense, tuxedo-clad waiters move about the dining room with a mix of dignity and pugnaciousness. My gruff but friendly waiter related a story about a customer who ordered his burger cooked well done, but grew impatient when it wasn't done as quickly as he would have liked.
"There's a hamburger waiting under a heat lamp at McDonald's for you down the street if you're in such a hurry," the waiter told him. The guy decided to wait, but the waiter told him he'd have to wait an extra five minutes for his impertinence. "People expect us to break their balls," he told me. "If we don't, they feel disappointed."
The eggplant parmigiana sandwich ($8.95) is another classic. Two thick, lightly fried slices of eggplant are griddled up and served on one of those crusty rolls with a generous ladling of marinara sauce and gooey cheese. Instead of the fries, I got a great cup of split pea soup ($3.50 with lunch), thick and hearty and larded with chunks of smoked pork.
The counter is the place to sit for lunch, so you can watch the waiters greet regulars and call out orders to the fast, veteran line cooks, but sit at one of the ample booths for dinner.
At $18.95, the chicken cacciatore may sound like a lot of money but you're really getting three meals for one because the portions are so large. As if you needed it, you also get a choice of sides that includes fries, spaghetti, ravioli or vegetables. The chicken cacciatore combines half (!) a chicken in a silky red sauce, whole mushrooms and big strips of bell peppers and onions. It's more manageable if you substitute two chicken breasts for the half bird, but you still won't finish it.
Fettuccine Alfredo ($15.95) is another dish that's easy to love, an imposing tangle of noodles bathed in a cream sauce just this side of sweet.
For such an everyman's restaurant, the wine list is decent. For big spenders there are bottles of Silver Oak ($99) and Stag's Leap Cabernet Sauvignon ($69) as well as more everyday choices like a Santa Margherita pinot grigio ($40) or Rodney Strong pinot noir ($33). Or you could go roots and order the house "burgundy," a Guglielmo Vineyards pinot noir for $25.
There are desserts like cheesecake ($5.95), chocolate mousse torte ($5.95) and spumoni ice cream ($3.95) but I've never heard of anyone eating one. Who has room?
---
Original Joe's
Address: 301 S. First St., San Jose.
Phone: 408.292.7030.
Hours: 11am–1am daily.
Cuisine: American and Italian-American.
Price Range: $13.95–$38.95.
Send a letter to the editor about this story.