12.05.07
home | metro silicon valley index | music & nightlife | band review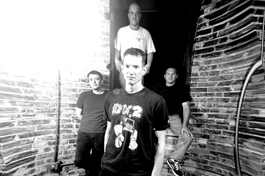 AGING GRACEFULLY:
Naked Raygun has been making records since you were in tube socks.
Naked Utters
Naked Raygun and the Swingin' Utters let it all hang out—together
By Garrett Wheeler
WHEN Jeff Pezzati began singing for Naked Raygun back in 1981, few could have predicted the strangely tumultuous path that lay ahead. Plagued by numerous member changes and the growing pains that often accompany music released "ahead of its time," the band's seemingly imminent commercial breakthrough would never come. Now, 2 1/2 decades after its inception, Naked Raygun is back and ready to rock.
The story of the band's early years finds them at home in Chicago, Ill, gathering momentum on the local bar circuit. The original four members of the post-punk outfit climbed the ranks of a burgeoning rock scene that merged hardcore grit with melodic undertones, eventually becoming one of the nation's leading figures of an underground genre. Alongside bands like Hüsker Dü and R.E.M., Naked Raygun was poised to change the face of rock music. But even as the newly emerging sounds of pop-infused punk rock began to seep into the mainstream, Naked Raygun began to dissolve toward obscurity, eventually disbanding altogether in 1991. The band's breakup could hardly be called a surprise. In less than a decade, the group had cycled through a half-dozen guitarists, bassists and drummers. Unable to stabilize any part of the group other than vocals, Naked Raygun was forced to call it quits at a time when commercial appeal was perhaps at its highest.
Though Billboard success was never realized, the number of notable bands that cite NR as a major influence speaks volumes about their place in rock & roll history. Alkaline Trio, Fallout Boy and Rise Against have all credited Naked Raygun as having a profound impact on their music.
Last year, NR resurfaced to play Chicago's punk festival, Riot Fest, and the response more than validated their headlining position. Attendance pushed the 4,000 mark, and no act garnered more praise than Naked Raygun. The show was such a success that the band decided to release a DVD documentary of their pivotal first appearance at Riot Fest. High on the success of the reunion gig, the group decided to reunite for good, releasing a retrospective CD/DVD and drawing up plans for a West Coast Tour (they hit the Blank Club Dec. 5).
Joining NR on the 12-stop road-trip are Cali's own punk revivalists, the Swingin' Utters. Originally formed in Santa Cruz in the late '80s, the Swingin' Utters brought their own brand of aggressive music to the growing Bay Area punk scene. While most of us might know them for their appearance in Tony Hawk Pro Skater 2 (the game's soundtrack features their hit "5 Lessons Learned"), the Utters first caught public attention in '95 with the release of their first full-length album, The Streets of San Francisco. The album won Best Debut Album at the Bay Area Music awards, bolstering their reputation as freewheelin' rockers poised for stardom.
By 2002, the Utters had landed a spot on the first annual Vans Warped Tour, sharing the bill with big name acts like NOFX, Bad Religion and New Found Glory. The increased exposure was enough to carry the band into a new territory of punk rock prestige. Following tours with the Dropkick Murphys and the Damned, the Swingin' Utters established their position as the West Coast's most dependable purveyors of gimmick-free punk. The genre is all about nonconformity and youthful aggression and rebelling against all things corporate. Without straying from their proletariat roots and blue-collar attitude, the Utters managed to maintain a nearly impossible level of respect from a culture that generally despises any shifts toward mainstream popularity.
As the Swingin' Utters hit the road alongside their Midwestern contemporaries, both bands seem ready to defy the usual aging process that forces most punk bands to become little more than musical points of reference. The two original punk revivalists stand undeterred by odds that are surely stacked against them, at least in a commercial sense. Of course, MTV sex-appeal and success on the pop-charts have no correlation to punk rock triumph. No lucrative record deal or marketing tactic could prove victory for Naked Raygun and the Swingin' Utters. These details are trivial in comparison to what these bands possess: a loyal fan-base of over 20 years and a permanent position in the history book of American punk.
NAKED RAYGUN and the SWINGIN' UTTERS play on Wednesday (Dec. 5) at 9pm at the Blank Club, 44 S. Almaden Ave, San Jose. Tickets are $12. (408.29.BLANK)
Send a letter to the editor about this story.