12.05.07
home | metro silicon valley index | the arts | stage | review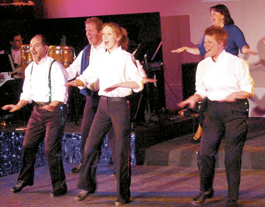 Photograph by Bart Smith Time
ON THEIR TOES: The Tabard cast works out on "Time Warp."
Tap Time
Tabard Theatre looks to the past for infectious dance routines in 'Stop Time!'
By Marianne Messina
WITH SIMILAR ROOTS and infectious ties to rhythm, it's no wonder the words scat, tap and rap are alliterative family. When done well, these rhythmical art forms have transcendent potential, yet with rare exceptions each has traditionally been filed away in a particular genre or era. Unfortunately for tap as an art form, most tap forums associate tap with bygone eras, as does Tabard Theatre' new revue, Stop Time! Loosely collected around the wish to stop time, the Tabard revue takes song and dance forms mainly from the early-to-mid-20th-century, sampling a menu of ragtime, soft-shoe, waltzes, tangos, torch songs, songs from musicals, early rock & roll and '60s pop-rock.
While the tap is lively, tight and occasionally technical, it stays with the meat-and-potato dance routines common among dance-school recitals; nontap enthusiasts may meet this fact with indifference. This is a holiday show with holiday themes—like bygone years, motherhood and fatherhood—that visits every time-related paean and lamentation short of "Sunrise, Sunset." Under the theme of rain, too-familiar songs like "Raindrops Keep Falling on My Head" and "Stormy Weather" begin to make the eyelids grow heavy, and then along comes one of the most artful moments of the show, incidentally aimed at the kids in the crowd. Smiling 11-year-old Carolyn DiLoreto, quite a charmer, instructs the audience on how to "create rain." After breaking the audience up into sections, DiLoreto has each section make a sound, like rubbing hands together. When the four rhythmic sounds come together, they create a fascinating rainstorm and reflect a quote attributed to Maya Angelou: "Everything has rhythm; everything dances." (A stream of these quotable quotes was projected on a screen behind the performance.)
If you like tap, the first and last numbers are the tap showcases, for which choreographer Geri Carlson Sauls uses a full corps of dancers and supplies canonical statements and tapped conversations. There's also a nice rhythm battle between feet and conga drums. But when tap takes a back seat, the show lags, despite capable singing voices. One notable bright spot is a comedic role reversal in which three baseball widowers (in aprons) try to converse (sing) with their baseball-addicted wives. In addition to the cute concept, Sauls gives the wives imaginative choreography as they reposition around husbands obstructing their view of the TV.
Stop Time! shapes its train of backward-looking songs into the seasonal arc that starts out like a family gathering, fishes awkwardly around the chest cavity for the heart strings and ends up in festivity. You've got to be feeling really nostalgic, and then wanting your whole family to join you at it for this to work.
STOP TIME!, a Tabard Theatre production, plays Thursday–Friday at 8pm, Saturday at 3 and 8pm and Sunday at 2pm, plus Wednesday (Dec. 12) at 8pm through Dec. 15 at Opera San Jose Rehearsal Hall, 2149 Paragon Dr., San Jose. Tickets are $10–$25. (408.979.0231)
Send a letter to the editor about this story.