12.05.07
home | metro silicon valley index | columns | silicon veggie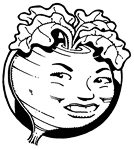 Silicon Veggie
Meatless Holiday Treats
By Elisa Camahort
IF YOU have a veg*n friend or loved one, you may be wondering what they'd love for the holidays from a culinary perspective. I'm here to help with the Top 5 ways to please a veg*n's taste buds this holiday season.
1. Dessert is the No. 1 course that's hard for a vegan to find at your average party. If you want your friend to think you're sweet, satisfy their taste buds with a vegan cake from Black China Bakery. It's located in Santa Cruz. You can go there in person, but Whole Foods Markets also carry Black China cakes in its bakery section.
2. You can never have enough dessert, so give the gift of Maggie Mudd's vegan ice cream. They have a shop in San Francisco, but their products can also be found in many natural food stores and in some vegetarian restaurants. They even make and deliver vegan ice cream cakes, so who needs Cookie Puss?
3. I swear the whole column won't be about sweets, but I couldn't pass up telling you about Chocolate Decadence, a site that sells and ships vegan chocolate. Not just chocolates, but vegan cookies and vegan brownies too. Many in very nice gift boxes or baskets. You can have it shipped overnight, so what are you waiting for?
4. Enough with the sweets! If you're looking for veg*n comfort food, then look no further than the Saturn Cafe in Santa Cruz. The Saturn Cafe understands that sometimes a veg*n wants a good burger and fries like anyone else. Or a milkshake—available with vegan ice cream. Or nachos, with vegan tofu cheese spread when appropriate. This was the last stop on our brief mini-'moon last month, and after lamenting the dearth of veg restaurants in Monterey, the Saturn Cafe compensated admirably.
5. Finally, what if you want to take that special someone to a special dinner? I wish I could tell you about some elegant vegetarian restaurant in San Jose, but we went over that in last month's column. Instead I will recommend Greens at Fort Mason in San Francisco. Greens is a vegetarian (not vegan) restaurant, but they've adapted whenever I've gone there. Pair that with the fact that the restaurant's location is at the Marina, looking out on the bay, and it's the perfect place for a tête-à-tête with your favorite vegetarian.
So, whether you're bringing something to a vegetarian host this holiday season, or taking a vegetarian out, I hope this will give you a few bright ideas. Happy holidays!
Black China Bakery
104 Bronson St., Santa Cruz
831.457.2068
Chocolate Decadence
chocdec.stores.yahoo.net/index.html
Greens Restaurant Bldg. A, Fort Mason Center, San Francisco
415.771.6222
www.greensrestaurant.com
Maggie Mudd's
903 Cortland Ave. (between Folsom and Gates), San Francisco
415.641.5291
www.maggiemudd.com
Saturn Cafe
145 Laurel St., Santa Cruz
831.429.8505
www.saturncafe.com
Send a letter to the editor about this story.