December 6-12, 2006
home | metro silicon valley index | silicon valley restaurants | review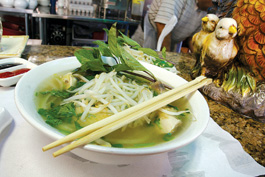 Photograph by Felipe Buitrago
Pho Ga An Nam Phenomenon: You too can discover the power of pho ga.
Pho Ga About It
Vietnamese chicken soup is a must-have for cold season
By Stett Holbrook
I WAS desperate. My plan to review a new Palo Alto restaurant didn't work out. With my deadline looming, I needed to find a replacement. On top of that, I had a lingering cold. My sinuses felt like they were filled with cotton and my chest wheezed like a punctured bagpipe. Robitussin, Triaminic and Theraflu had all let me down. I needed a more ancient form of relief. I needed chicken noodle soup. So why not kill two birds with one stone? Thus began my search for restaurants serving the poultry- based elixir.
Chicken noodle soup, sometimes called "Jewish penicillin," has long been touted as a cold remedy. Way back in the 12th century, Jewish physician and philosopher Maimonides wrote that chicken soup "has virtue in rectifying corrupted humours" and prescribed it for convalescing patients. I can tell you that the persistence of my cold left my humor thoroughly corrupted.
In spite of its reputation as folk medicine, there appears to be some science to back up claims of chicken noodle soup's curative properties.
In 1993, Dr. Stephen Rennard, a University of Nebraska Medical Center physician, researched the cold and flu fighting powers of the soup. The study questioned whether the movement of neutrophils, the most common white cell in the blood that defends the body against infection, would be blocked or reduced by chicken soup. Research found that eating chicken noodle soup did reduce movement of neutrophils and helped reduce activity in the upper respiratory tract that can cause cold symptoms. The research was published in Chest, the peer-reviewed journal of the American College of Chest Physicians.
Silicon Valley is not flush with Eastern European restaurants ladling out bowls of chicken soup made by Jewish grandmothers. But we do have lots of restaurants serving pho ga, and I set out to eat my fill.
The First Chicken Soup
Pho ga is Vietnamese chicken noodle soup. Since the domestic chicken we eat today descended from the pheasantlike red jungle fowl of Southeast Asia thousands of years ago, pho ga is arguably the most traditional form of chicken noodle soup.
Like its better-known beef-based cousin pho, pho ga (ga means chicken in Vietnamese) is based on a light but brightly seasoned aromatic broth. The thin rice noodles and chunks of chicken add bulk and additional flavor. Unlike Western versions where the chicken simmers in the broth, chunks of chicken are added right before serving.
My first stop was Pho Ga An Nam, a pleasant and clean place with a crowd bunched up at the door waiting to get in. If you're a chicken lover, this is your place. The restaurant serves 47 different chicken dishes—noodle soup, chicken over rice, egg noodle soup and other chicken-centric items. But I was here for the restaurant's namesake dish. And so, it seemed, was everyone else. Everyone had their head bowed over their soup, blissfully lifting spoon and chopsticks to their mouths as they inhaled the chickeny vapors.
My bowl ($5.50 for a small) arrived in a pale yellow translucent broth with a cleaver-chopped leg and chunks of thigh. (Pho ga is generally available with breast or leg meat and with or without the skin. For purposes of analysis, I ordered all of mine with dark meat and with the skin on. The skin makes for a richer bowl of soup, don't you know.) The soup was showered with fresh chopped cilantro and cooked with thin slices of onion. The standard accompaniment of bean sprouts, basil leaves, lime wedge and jalapeŇo slices is served on a plate alongside the soup.
For me, pho ga lives and dies on the strength of its broth, and An Nam's was clear and bright with fresh, non-oily chicken goodness. I was feeling better already. A squeeze of lime and a squirt of chile sauce made it even better and helped to clear my head. The thin and round rice noodles still had a bit of bite left to them, but the chicken itself was rubbery and chewy and stuck between my teeth. I drained all the broth but ended up leaving some chicken uneaten.
Still hungry and still wheezing, I headed north on Capitol Avenue to pho ga standout Kim Long Restaurant. Located in a little pocket of Vietnamese restaurants near the Milpitas/San Jose border, this place was even more crowded than Pho Ga An Nam, with a line snaking out the door. Because I was alone, a man acting as a restaurant traffic cop waved me over to an empty table soon after I arrived. But just as I was about to sit down, a waitress with a pen behind her ear tossed a plate of bean sprouts and basil leaves on my table and said, "White meat?"
At least that's what I think she said. I told her I wanted pho ga and she nodded quickly and asked if I wanted white or dark meat. Did I look so ill that she knew what I was going to order? Mind you, there were dozens of items on the menu besides pho ga.
Anyway, in a few minutes my small bowl ($5.75) arrived. The broth was a deeper yellow than An Nam's and had a richer, more chickeny flavor without being greasy. It was saltier, too. Translucent slices of onion and fresh chopped green onion and cilantro further perfumed the broth.
The hen meat was wonderfully tender. The meat is boiled in water before being added to the soup—on its own it would be too bland, but in the soup it's great. The slippery rice noodles, thin and flat, added substance to the soup. I didn't think I could finish my soup, but I did, with pleasure.
No End of Soup For You
After consuming two bowls of pho ga back to back, I waited to see how I felt. Full, yes, but I also felt a slight improvement in my condition. The pressure in my head lessened and my chest felt looser. It was working. So for dinner I ordered more.
This time I headed south to Pho Ga Hung, located on Tully Road's Lion Plaza. Lion Plaza is Silicon Valley's Vietnamese food nirvana. There are dozens of restaurants, bakeries, noodle shops and I-don't-know-what-to-call-them restaurants, each as intriguing as the next.
As I looked for the Pho Ga Hung, located in a food court at the back of the shopping center, a cold north wind knifed through the mall as knots of Vietnamese men played a form of checkers atop garbage cans, benches, newspaper racks and any other flat surface while sing-song Vietnamese pop music warbled out of speakers somewhere. How could Vietnamese food not taste good in a setting like this? It couldn't. And it didn't.
Pho Ga Hung made my favorite bowl of soup. The restaurant is nothing more than a counter and a tiny, pot-crowded kitchen tended to by two women. The broth is made from cooking more than 30 whole chickens and chicken bones in a big, slow, bubbling cauldron. It's a got a big, full chicken flavor that's both rich and refreshingly light. The tender, boneless dark meat is more flavorful than other versions I had. I slurped up the springy noodles, throwing in some bean sprouts and basil leaves along the way, and I could feel my cold beating a retreat.
After downing my third and final bowl of pho ga for the day, I slept a deep, dreamless sleep. The next day, my cold had become just a mild case of the sniffles. If you don't have a Jewish grandmother, a hot bowl or two of pho ga is the next best thing.
---
Pho Ga An Nam
Address: 740 Story Road, San Jose.
Phone: 408.993.1211.
Hours: 9am-10pm Mon-Tue and Thu-Fri, 9am-11pm Sat-Sun and 9am-3pm Wed.
Price Range: $5.50-$15.
Kim Long Restaurant
Address: 2082 N. Capitol Ave., San Jose.
Phone: 408.946.2181.
Hours: 8:30am-9pm daily.
Price Range: $5.75-$8.50.
Pho Ga Hung
Address: 1818 Tully Road No. 120, San Jose.
Phone: 408.238.2543.
Hours: 7:30am-7pm daily.
Price Range: $5.50-$8.
Send a letter to the editor about this story.