December 6-12, 2006
home | metro silicon valley index | the arts | books | excerpt
The rest of the story: 'Kill the Messenger' does what the U.S. press wouldn't do—ask hard questions about the campaign against Gary Webb.
When First We Practice To Deceive
A new book reveals how the media's campaign against Mercury News reporter Gary Webb may have driven him to suicide, and suggests he took the fall for the paper's failures on an explosive series of articles
IN THE mid-'90s, Gary Webb authored an explosive series for the San Jose Mercury News titled "Dark Alliance," in which he asserted that the CIA knew tons of drugs were coming into Los Angeles and that the money was being moved to fund the Contras in Nicaragua—and that they were complicit in the whole thing. Webb's story was blasted by The New York Times, the Washington Post and the Los Angeles Times. The barrage of attacks on Webb by the aforementioned media represented one of the most embarrassing charades in the history of American journalism. It wasn't that Webb's story was flawless, it's just that these other papers, instead of further exploring his evidence, decided to attack him instead.
In the end, Webb's own editors at the Mercury News didn't even stick up for him. They originally defended the pieces, but eventually ran away with their tails between their legs. Webb's career was ruined and he committed suicide two years ago, but his research has recently been expanded by investigative journalist Nick Schou, who has penned a new book on Webb's life, Kill the Messenger: How the CIA's Crack-Cocaine Controversy Destroyed Journalist Gary Webb. It includes an introduction by Charles Bowden, who defended Webb in a famous article for Esquire. In the book, Schou documents the rise and fall of a courageous reporter who did everything a journalist is supposed to do: he challenged authority and held people in positions of power accountable for their actions. He was not afraid to take on the big dogs. The CIA eventually released a report confirming a lot of the allegations made by Webb, but the mainstream press largely ignored it.
The following is an excerpt from Kill the Messenger, which tackles some tough questions about Webb's suicide, the failures of his editors at the Mercury News, and the campaign against him by the American press.
GARY WEBB'S SUICIDE didn't go unnoticed in the industry to which he had dedicated the better part of his life. But unlike "Dark Alliance," it wasn't front-page news. "Gary Webb, a prize winning investigative journalist whose star-crossed career was capped with a controversial newspaper series linking the CIA to the crack-cocaine epidemic in Los Angeles, died Friday of self-inflicted gunshot wounds," the Sacramento Bee reported in a Dec. 12 obituary. "Three of the nation's leading newspapers, the New York Times, the Los Angeles Times and the Washington Post, followed up with reports questioning Mr. Webb's conclusions, and eventually his own newspaper turned on him."
Three days later, the Bee published a follow-up story intending to quell rumors then spreading throughout conspiracy websites on the Internet that the CIA had assassinated Webb. "Such a case normally would have sparked little notice," the Bee reported. "But Webb's allegations spawned a following, including conspiracy theorists who have worked the Internet feverishly for days with notions that because Webb died from two gunshots he was killed by government agents or the Contras in retribution for the stories written nearly a decade ago."
Perhaps the most absurd account of Webb's supposed murder came from Prisonplanet.com, an Austin, Texas-based Internet radio show run by Alex Jones. Under a headline "The Murder of Gary W. Webb," Jones darkly referred to "credible sources who were close to Gary Webb" and who said he was working on a new exposé involving the CIA. According to Jones' sources, Webb "was receiving death threats, being regularly followed," and "he was concerned about strange individuals who were seen on multiple occasions breaking into and leaving his house."
Jones claimed that Webb had recently complained about intruders "who were obviously not burglars but government people." When Webb confronted them, these "professionals" escaped by "jumping from his balcony" and "scaling down the pipes outside his home." The only problem with that scenario is that Webb lived in a one-story ranch house with no balcony or pipes on the wall.
Sue didn't find out that her ex-husband had shot himself twice until she got a call from the Bee reporter who wrote that story. She later discovered that Webb almost didn't succeed in killing himself. When the first bullet pierced his cheek, it missed his brain, tearing only soft tissue. Webb pulled the trigger again. The second bullet barely nicked an artery, and Webb, who likely fell unconscious moments later, ultimately bled to death.
It was hardly the mark of a professional hit. Sue told the reporter she was certain her ex-husband had committed suicide.
"The way he was acting, it would be hard for me to believe it was anything but suicide," she said, explaining that he had been "distraught for some time over his inability to get a job at another major newspaper."
Sue also received a call from a San Francisco-based private investigator who said he had been hired to investigate her ex-husband's death. He wanted a hair sample, explaining that there might be chemical traces in his hair follicles that would show whether he had been murdered. Sue agreed to meet the man at the mortuary, where she reluctantly provided him with a sample. Later, the investigator called her and asked if Sue would agree to an autopsy if he could raise the money. She said she'd think it over. The investigator called back on the day of the memorial service and said he had raised $6,000. He asked for her permission to collect Webb's body. "I told him it was too late, that he had already been cremated," Sue says. "But there was no reason to have an autopsy. I don't know what happened to that hair sample. I never got a call."
That wasn't the last of it, however. Nearly a year after Webb's death, Anita Langley, host of Black Op Radio, an Internet radio broadcast devoted to conspiracy topics, emailed Sue. Langley claimed that Webb was in contact with witnesses to unspecified secret government operations shortly before he died. Government agents recently had murdered some of those witnesses and their entire families, she said.
"Gary would have known that these people kill children," Langley wrote. "If he wrote the suicide notes, I think it is possible he would have done so as a result of being given the option to spare his children a terrible fate. ... Gary learned about the worst types of crimes imaginable, and I do suppose it is possible that his death was a suicide, but in light of what I have told you, I hope you will consider the possibility that there may have been a professional hit here."
Langley asked Sue to search Gary's records for any notes that would confirm these contacts. In an email, Langley told me she had no proof to support her suspicions, but is certain Webb was digging into a story that could have caused powerful government forces to threaten him. Sue and Webb's son Ian, however, dug through Webb's documents and found nothing to indicate he was working on anything other than stories for the Sacramento News & Review.
There wasn't any assassin's bullet, nor was there any need for one. It was Gary Webb's controversial, career-ending story—and the combined resources and dedication of America's three largest and most powerful newspapers—that killed his career as a reporter and set the stage for his personal self-destruction. Without exception, those who knew Webb well believe he killed himself. And while the reasons they offer for that belief differ in terms of the precipitant motivation for Webb's decision to commit suicide, they converge on one point: Webb's depression may have existed for decades on one level or another, but it only became life-threatening after his banishment from journalism thanks to the controversy over "Dark Alliance."
Journalists who helped expose the connection between the CIA, the Nicaraguan Contras, and drug smuggling say that while "Dark Alliance" wasn't a perfect piece of journalism, Gary Webb deserves to be celebrated for forcing the CIA to admit that it had protected Contra drug smugglers from prosecution and then lied about it for years. They mourn the fact that Webb paid such a heavy price for one story, however controversial.
"What happened to Gary is an American tragedy, but one that still hasn't been addressed," says Bob P. Parry, the AP reporter who originally broke the Contra-cocaine story. "I'm stunned at how mean the mainstream press has chosen to be. [They are] so lacking of any self-criticism about this. The press has displayed much more self-criticism on such smaller issues, but there' there's been no self-criticism on this one."
"A good editor would have made Gary modify his conclusions," says The Nation's David Corn. "This would have saved 'Dark Alliance,' and perhaps saved Gary. He would have gone on with his life. It was an explosive story because it overreached. It's fair to assume had it not overreached it would have been better for him. But because it overreached, those Inspector General reports came out. One thing Gary should be remembered for is that his pursuit of this issue did cause huge chunks of the truth to come out of the CIA."
"I don't know why he killed himself or what would have prevented that," says Marc Cooper of the L.A. Weekly. "What I can say is that the media killed his career. That's obvious and it's really a nauseating and very discouraging story, because as a journalist, the only thing you have is your credibility. When that is shredded, there's no way to rebuild it."
Cooper agrees with Corn that "Dark Alliance" contained serious flaws, but reserves special scorn for the journalists who criticized his story. "If Gary Webb made mistakes I have no problem with exposing them," he says. "But given the sweep of American journalism over the past fifty years, this is an outstanding case where three of the major newspapers in the country decided to take out somebody, a competitor whose mistakes seem by any measure to be very minor."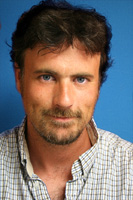 Remembering the messenger: Investigative journalist Nick Schou is the author of 'Kill the Messenger: How the CIA's Crack-Cocaine Controversy Destroyed Journalist Gary Webb.'
French journalist Paul Moreira, who interviewed Webb in 1997, filmed a forty-five-minute documentary about Webb for the investigative program 90 Minutes on France's Canal Plus—the only televised coverage of his suicide anywhere in the world. Moreira also interviewed Washington Post reporter Walter Pincus about the media's lack of coverage on the CIA's inspector general report admitting the agency worked with drug dealers throughout the 1980s.
"It was much, much more grave than Watergate," Moreira says. "The report comes out precisely in the middle of all the noise around Monica and Bill, and no one pays attention! That's when I discovered that media-noise is the new censorship."
Moreira says his bosses weren't overjoyed about broadcasting his documentary. "They thought it was too distant for the French, and they were right; the ratings were not that good," he says. (Shortly after this interview, Canal Plus cancelled the show.) "But somehow I knew I was doing the right thing. I felt like justice should be given to his work, his name. Not enough people in this job are ready to take some risks. He did."
The Post's Pincus says Webb was ultimately a victim of his own celebrity, not other journalists. "One thing I have been fascinated with is what notoriety does to people who have never felt it," he says. "The fifteen-minutes-of-fame business is really dangerous. There are people who fawn all over you, who make you think you are much more important than you really are. It happens in this city all the time."
Pincus believes that the most important legacy of "Dark Alliance" was that the story—along with other scandals that plagued the agency in the 1990s, including its ties to a Guatemalan army officer who murdered a left-wing rebel married to U.S. citizen Jennifer Harbury—encouraged the CIA to be less aggressive in its efforts against Islamic terrorism, which helped enable Osama bin Laden's 9/11 terrorist attacks.
"That's horseshit," says Jack Blum, who headed Sen. Kerry's subcommittee on narcotics and terrorism during the 1980s. "The CIA and FBI didn't stop 9/11 because nobody listened to their agents in the field. And the disease that led the mainstream media to dump all over Gary Webb is the same disease that led the media to be so uncritical about the Iraq war. This guy was abused for doing his job. To the extent he was wrong, the fault lies with his editors who probably didn't work with him sufficiently or do certain checking on some of the stuff he was told."
Greg Wolf believes his lifelong friend died because he stopped taking his anti-depressants. "This has got nothing to do with politics or his career, but brain chemistry," he says. "He was clinically depressed. He was having a continuous midlife crisis and that's what killed him." But Wolf suspects that "Dark Alliance" was the central cause of Webb's depression. "That story was his first big hit of crystal meth," he says. "And then he was no longer just some respected reporter, he was a celebrity. And they took that away from him and it was too much for him. He wrote the biggest story of his life and then he was a pariah."
"He was a courageous guy, but too stubborn for his own good—and paid the price," says Tom Loftus, one of Webb's friends from the Kentucky Post. "I've never seen an investigative project come under fire like 'Dark Alliance.' It hasn't happened before or since. I wonder how many Pulitzer prizes would be revoked in the Washington Post or New York Times if those papers used their best reporters to examine each other. Now all his editors have better jobs and the reporter is dead."
Tom Scheffey, who co-authored the Coal Connection articles with Webb at the Kentucky Post, believes Webb's editors at the Mercury News betrayed him. "I think that being an investigative reporter is like being a trained Doberman," he says. "All their training goes into being good at sniffing things out, running at the ground, and going after the story. For inexplicable reasons, after all these instincts and talents are built in, the chain is jerked. This is what drives Dobermans and investigative reporters nuts—getting really good at something and then being told you can't do it. Gary was betrayed by his handlers."
Tom Andrzejewski—the Polish-American reporter who always thought every phone call was "The Big One"—asserts that anybody who would claim to know the truth behind the dark events Webb chronicled in his big story is misguided.
"Somewhere in there was the truth," he says. "Gary probably got close to it. The problem was he couldn't prove it."
Andrzejewski believes the attacks Webb endured were "the beginning of the end" for his friend. "It was such an egregious, mean-spirited response," he says. "The way the respected papers took him on and treated him so shabbily was unprecedented."
Anita Webb, the last person to speak with her son before he shot himself, says she will never forgive the journalists who spent so much time and energy attacking Gary Webb.
"They destroyed my son's career," she says. "Gary was an honest reporter, and they killed him. I'll never forgive the people who destroyed my son."
The mainstream media's attacks continued even after Webb's suicide. On Dec. 12, the Los Angeles Times, which had done more than any other newspaper to destroy Webb's career eight years earlier, published a brief obituary saying his work on the CIA and drugs had been "discredited."
The source for this alleged discrediting was, of course, the Times itself. The obituary writers, Nita Lelyveld and Steve Hymon, looked no further than the paper's own response to "Dark Alliance."
Bob Parry recalls learning of Webb's suicide from the Los Angeles Times, which called him for a comment. Parry told the reporter that the American people owed a "huge debt" to Gary Webb for exposing an important, dark chapter in their country's history. "I said you'll have trouble writing about it accurately, because if you look at your paper's clips you'll have trouble finding a single accurate story about what he exposed," Parry says.
The San Jose Mercury News finally acknowledged its role in Webb's tragic fate in a Dec. 16 editorial. "After any suicide, survivors feel guilty," wrote Scott Herhold, the editor who worked with Webb in his early years at the Mercury News. "Was there any way it could have been avoided?"
Webb, he said, was an "immensely talented reporter, a good writer and a sometimes-difficult human being. In many ways he represented the best of our craft—its compassion, its obligation to speak truth to power."
Herhold also wrote that Webb's "lack of doubt" in his beliefs "demanded a firm editor to challenge him. "Gary didn't get that on any level. ... 'Dark Alliance' was as much an institutional failure as it was a personal one. Yet Webb bore the chief consequences." Herhold refused to comment on a claim by a former Mercury News reporter that the paper killed an additional line in his obituary stating that while Webb lost his job over "Dark Alliance," all of the editors who worked on that story were later promoted.
"The zeal that helped make Gary a relentless reporter was coupled with an inability to question himself, to entertain the notion that he might have erred," says former Mercury News editor Jonathan Krim. He wonders if Gary's reaction to criticism allowed other people involved in his story—such as his editors—to escape harsher scrutiny. "There was plenty of responsibility to go around," he concludes. "We failed as a newspaper."
Dawn Garcia emerged from the "Dark Alliance" controversy with her career intact. In 2000, she left the Mercury News and became the deputy director for Stanford University's John S. Knight Fellowships for Professional Journalists. Garcia never kept in touch with Webb after he left the paper, but according to Webb's former colleague, Pamela Kramer, Webb told her shortly before his death that he didn't blame Garcia for what happened to his career.
Unlike the other editors who handled the project, Garcia recognizes her own failures. "Had I to do all over again, I would have pushed to hold the story until everything was truly ready," she says. "I would have recast parts of the series to focus on the very strong reporting Gary had done, and be much more careful about how we worded the conclusions of that reporting." Garcia believes "the core of the series was correct but that the conclusions Gary drew were too sweeping. We could have had almost as strong or stronger a story by being more explanatory in what we thought and why we thought so."
But Garcia also feels the "Dark Alliance" controversy helped reveal an important part of U.S. history that had been largely ignored by the American media. "Two years after the series ran, a CIA Inspector General's report acknowledged that the CIA had indeed worked with suspected drug runners while supporting the Contras," she says. "The IG report would not have happened if 'Dark Alliance' had not been published. I also think we began a long overdue investigation into a dark chapter of U.S. policy. We raised important questions about what the government knew about drug smuggling that hadn't been covered well by the media."
Managing Editor David Yarnold, who stopped reading Webb's story halfway through the editing process, rose to become executive editor, then editor of the paper's opinion section. He left the Mercury News in 2005 and is now director of an environmental organization in New York City. Paul Van Slambrouck, who replaced Yarnold on the story, was promoted to a corporate position with Knight Ridder before becoming editor of the Christian Science Monitor. In 2003, the Monitor published a story based on forged documents accusing George Galloway, a left-wing member of the British parliament, of accepting millions of dollars from Saddam Hussein during the 1990s. After issuing a formal apology to Galloway, Van Slambrouck stepped down as editor and became a San Francisco-based correspondent for the paper.
In 1997, Jerry Ceppos received the Society of Professional Journalists' Ethics in Journalism award for publishing his mea culpa about "Dark Alliance." Two years later, he left the Mercury News to become vice president for news at Knight Ridder. Ceppos celebrated his final day in journalism on Aug. 31, 2005, taking an early retirement to enjoy his vineyard in Saratoga.
Had he lived, Gary Webb would have turned fifty years old that day. Two weeks later, his family—Sue, Anita, Kurt, Ian, Eric, and Christine—marked Webb's birthday by driving to Santa Cruz. With the Rolling Stones song "You Can't Always Get What You Want" blaring from a boombox, they obeyed his final wish—and let him bodysurf for eternity. They tossed his ashes into the crashing waves of the Pacific.
The preceding excerpt is from 'Kill the Messenger: How the CIA's Crack-Cocaine Controversy Destroyed Journalist Gary Webb' by Nick Schou (Nation Books; 278 pages; $14.95 paper). Copyright 2006 by Nick Schou. Used with permission. All Rights Reserved. Available for purchase at www.nationbooks.org.
Send a letter to the editor about this story.