December 6-12, 2006
home | metro silicon valley index | the arts | visual arts | preview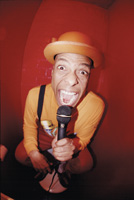 Orange juice: Fishbone's Angelo Moore hocks up a wad of creative juices for an evening of live collaborative art.
Sensory Overload
Pacific Art Collective celebrates four years of collaborative art
By Ryan Osterbeck
ESTABLISHED in 2002, PAC started with the idea of creating a cultural outlet for exposure and economic stimulation for artists and venues in the Bay Area. Now celebrating its fourth year, PAC is becoming synonymous with the diverse grassroots artistic movement.
"PAC wanted the word 'art' to reflect creativity in all forms rather than just the visual," explains PAC's art director William Rowan. "Every PAC 'Session' presented several live painters, bands, DJs, poets, dance groups, fashion designers and other performance-based artists."
Yet just having all of these artistic elements in the same space didn't fully represent the vision of a collective of artists creatively feeding off one another. Hence, the "Collabo" series.
"Every 'Collabo' event showcases live collaborative painting, poets, DJs and bands," explains Rowan. Each artist feeds off the intensity of the other, each one throwing their creative and artistic juices into a bohemian mash-up. "Now the painter cares what the poet is preaching and the poet hears what the band is playing and the band sees how the performers dance and the dancers support what the DJs spin," says Rowan. "This type of awareness and solidarity gives life to PAC, the arts and our community."
On Friday, Dec. 8, the local vanguards at PAC celebrate four years of music, art and life on the cutting edge, featuring a band that's the living embodiment of the PAC ethos, those frenetic heavy alt-ska rockers Fishbone, performing live. Also plugging in and onstage for PAC's fourth birthday will be Bay Area futuro-punks the Phenomenauts, along with one of the best ska-funk-reggae-punk bands blowing amps on the local scene, FTB, plus the voodoo funk of Trikk Baby and the Oakland Faders.
Witnessing a PAC Collabo is simply mind-bending—their intrepid vision of smashing together national touring bands with local up-and-comers, then putting the whole musical concoction into the creative blender with a healthy dose of socially poignant live art production, nouveau beat poets and turntablists, smacks of a cultural renaissance that's incubating in our own back yard.
"When you realize the Bay Area has just as many brilliant artists as engineers, you have to take notice, support and eventually participate," says Rowan. "Society depends on it."
PAC takes Gautier's slogan of "art for art's sake" to heart and incorporates the next logical step to maintain art's pertinence. PAC wholly believes that in order for the arts to regain prominence in our increasingly disconnected society, all creative forces must come together and be given a space in which to grow. "A collaborative art movement is just what the arts need, not only to survive, but to thrive beyond current imagination," says Rowan.
Also, as anyone who's even remotely familiar with Collabo will know, there will be a live art installation with over 20 artists contributing, as well as a number of artists showcasing their individual talent in exhibits, standup poetry and just about anything else that comes to mind when you transform the word art into physical reality.
Pacific Art Collective's four-year anniversary happens Friday, Dec. 8, at 8pm at their now permanent home at Avalon Nightclub and Gallery (777 Lawrence Expwy., Santa Clara). Cost is $15 with all proceeds benefiting PAC and their commitment to keeping art alive in our communities. For more information visit www.pacificartcollective.com.
Send a letter to the editor about this story.