December 7-13, 2005
home | metro silicon valley index | columns | silicon alleys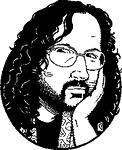 Silicon Alleys
True Local Flavor
By Gary Singh
HOUSE OF SIAM on Market Street in San Jose was always the greatest place to surreptitiously rummage around for the lost exotic half of yourself. I say "was" because as of Dec. 1, it's no longer there. The two sisters who ran the joint decided to concentrate primarily on their newer House of Siam locale on Second Street instead. But the memories will live on—for me, primarily, because our particular cabal of troublemakers spent hundreds and hundreds of dollars at House of Siam for most of the '90s. Back in our postgraduate days at SJSU, we were "the crew" or "the boys" at House of Siam during the first few years after they opened. We were the notorious gang who always showed up and spent three hours carrying on at high volume over way-too-spicy food and what was then cheap Thai beer. (Now they charge $4.75 for a Singha. When they first opened in 1993, a Singha was $3.) Many times, folks at the table next to us would move across the restaurant because we were too loud. Then the waitress for that table would walk up and hit me on the head with a serving tray.
It was a quintessential family restaurant, a subtle combination of formality and informality. You always felt like Thai people were the Italians of Southeast Asia whenever you gorged at House of Siam. The owners always came up and talked to you. The newer establishment on Second Street is much more of an upscale place, which is fine, but back during the mid-'90s or so, the original one on Market was the place to be. They would always give some extra special attention to the regular customers, even if those customers were loud, obnoxious, long-haired grad students.
I remember one time in particular. A pal and I were dining at a two-person table near the back door. It was after closing time and we were the only ones left. We had been there two hours, eaten and consumed several beers and we were not going to stop. It turned out they were getting the carpets cleaned after hours that night, so the staff began removing all the tables and chairs. They never once asked us to leave, even when our table was the only one physically left in the building. The entire place was empty, literally, except for the two of us still sitting at this one table. All the other tables and chairs were moved outside. With my shoulders shrugged and my hands in the air, palms facing upward, I turned to the waitress and said, "What, are you trying to tell us something?"
That was the kind of eatery House of Siam was, and speaking of rummaging around, I just happened to slide into the place last week, in order to witness the aftermath of the dismantling process. Only a few dozen chairs, piles of broken wood and some leftover decorations remained. The owners, Somsamai Perreira and Nuttawee Ritprasert, and I sat there, pondering the past and rehashing old memories. My compadres and I were their favorite customers during those first few years or so, they said. Our group would always insist on the food being so spicy that the entire charade of us dining there turned into a complete spectacle for everyone else. It was theater. I once described their food as "A culinary dominatrix that flogs your taste buds." And as we sat there, the sisters even pulled out a bottle of Singha from the wreckage behind the bar and gave it to me. Yep, I drank the last beer at the original House of Siam. If that ain't local flavor, I don't know what is.
Back in the day, we had pretty much codified the dinner arrangements. It was like something you'd see in a spy flick—I'd call a friend and this would be the conversation:
"Hello."
"House of Siam. Seven o'clock."
"I'm there."
"See ya."
Click.
I could go on all night about House of Siam memories—and I have. The place took one straight to Thailand, so much that I just had to go out and purchase a copy of Michael Ziesing's book, I Walked Away: An Expatriate's Guide to Living Cheaply in Thailand. One reviewer hailed the author as an "anarcho-Taoist beer-mystic." I like that term. House of Siam brought out the anarcho-Taoist beer-mystic in all of us.
Send a letter to the editor about this story.