12.12.07
home | metro silicon valley index | columns | 5 things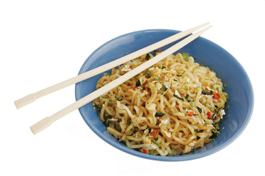 5 Things to Love
Good Ramen Restaurants
By Stett Holbrook
IT'S finally beginning to feel a lot like winter. And what goes better with cold weather than a big hot bowl of ramen? Here are five ramen specialists to help answer that question.

Kahoo The shoyu ramen will change your life. 4330 Moorpark Ave, San Jose. 408.255.8244.
Maru Ichi House-made noodles make the difference. So does delicious fatty pork. 368 Castro St, Mountain View. 650.564.9931.
Ramen Halu Order at will. It's all good here. 375 S. Saratoga Ave, San Jose. 408.246.3933.
Ramen Ramen Try the clam miso. 19774 Stevens Creek Blvd, Cupertino. 408.996.8830.
Tanto Another good placed for clam miso. 1063 E El Camino Real, Sunnyvale 408.244.7311.
Send a letter to the editor about this story.