12.12.07
home | metro silicon valley index | the arts | books | review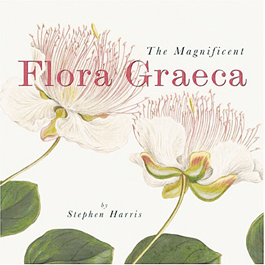 The Magnificent Flora Graeca:
How the Mediterranean Came to the English Garden
Review by Michael S. Gant
In the late 18th century, Englishmen with means took the Grand Tour of Europe; those with means and a touch of madness lusted for a grander tour that included the Ottoman Empire. They were often known as "Levant Lunatics" (Lord Byron being a prime later example). John Sibthorp, a botany prof at Oxford, combined that adventurous spirit with a classifier's mind when he traveled through the Greek islands and western Turkey in the 1780s and '90s. He collected thousands of specimens of indigenous plants, some of them previously unclassified. Sibthorp was a lousy note-taker and a bad speller, and his specimens were poorly labeled or unmarked altogether. Luckily for posterity, Sibthorp took with him Ferdinand Bauer, an artist of consummate skill and dedication. Bauer's field sketches eventually became the core of the Flora Graeca, a sumptuous publishing project that lasted 50 years after Sibthorp's sudden death in 1796 and resulted in 25 copies in 10 large volumes with nearly 1,000 exquisite hand-colored engravings of plant species based on Bauer's watercolors. The story of both the expeditions and the book are told in Stephen Harris' illustrated volume (which draws heavily on a hard-to-find scholarly study by Walter Lack). The full-page color illustrations offer convincing proof of Bauer's genius; his ability to reproduce even the tiniest variations of spines, leaves and petals is breathtaking. Side-by-side reproductions of the original watercolors and their engraved versions display an unmatched level of craftsmanship by the anonymous colorists. Even more amazing are the black-and-white field sketches, which Bauer coded with numbers from a color chart. Relying only on these numbers, Bauer created astonishingly accurate watercolors full of delicately rendered colors. (By Stephen Harris; Bodleian Library, University of Oxford; 189 pages; $60 cloth)
Send a letter to the editor about this story.