12.12.07
home | metro silicon valley index | music & nightlife | band review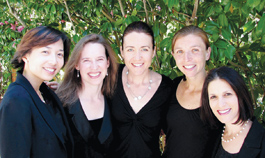 RITE OF WINTER: The Laurel Ensemble performs Stravinsky Thursday in Mountain View.
Classical Moves
By Michael S. Gant
Laurel Ensemble As part of the Faculty & Friends series, the Laurel Ensemble presents a night of works by Stravinsky. Community School of Music and Arts faculty member Ann Lavin (clarinet) performs with flutist Sarah Holzman, violinist Christina Mok and violist Jenny Douglass. Thursday (Dec. 13) at 7pm; Tateuchi Hall, 230 San Antonio Circle, Mountain View; free, but tickets are limited, so show up early; 650.917.6800, ext. 314.

San Jose Chamber Orchestra The Choral Project joins the orchestra for "Winter's Gifts: Light" in three performances. Conductors Daniel Hughes and Barbara Day Turner have chosen a wide variety of classical works by Bach, Mendelssohn and others as well as traditional songs for the collaboration. Friday (Dec. 14) at 8pm; Holy Cross Church, 126 High St., Santa Cruz; Saturday (Dec. 15) at 8pm; Mission Church, University of Santa Clara, 500 El Camino Real, Santa Clara; Sunday (Dec. 16) at 7:30pm at St. Benedict's Church, 1200 Fairview Road, Hollister; $20/$30; www.choralproject.org.

Palo Alto Chamber Orchestra The littlest instrument squares off with one of the biggest in the "The Tall and the Short of It." Tod Brody goes tiny for Vivaldi's Piccolo Concerto while Michel Taddei flexes his muscles on Dragonetti's Double Bass Concerto. Saturday (Dec. 15) at 8pm; Dinkelspiel Auditorium, Stanford; $6–$15; 650.856.3848.

San Francisco Symphony This year's version of Handel's Messiah marks the first conducting appearance by Ragnar Bohlin, the new chorus director for the San Francisco Symphony. The soloists are soprano Camilla Tilling, mezzo Tove Dahlberg, tenor Shawn Mathey and bass-baritone Patrick Carfizzi. Wednesday (Dec. 12) at Flint Center, 21250 Stevens Creek Blvd., Cupertino; $33–$60; 415.864.6000.

San Francisco Symphony Youth Orchestra In a family tradition, the orchestra offers Prokofiev's Peter and the Wolf plus seasonal carols and some sing-alongs. Sara Ramirez of Grey's Anatomy provides the narration. Saturday (Dec. 15) at 2pm; California Theatre, 345 S. First St., San Jose; $20–$46; 415.864.6000.

Winchester Orchestra Henry Mollicone welcomes clarinetist Joseph Morris, winner of the Winchester Orchestra's student contest, for a rendition of Mozart's Concerto for Clarinet and Orchestra. In keeping with the holidays, the orchestra will also present the Russian Dance from The Nutcracker and some audience sing-alongs. Mollicone's own opera Gabriel's Daughter is represented by five choruses. Saturday (Dec. 15) at 7:30pm; Trinity Cathedral, Second and St. John streets, San Jose; $7–$18; 408.269.1905.

El Camino Youth Symphony The annual holiday show includes compositions by De Falla, Haydn, Elgar and Strauss. The soloists are all local competition winners: James Yoon, Jeffrey Kwong, Jennifer Choi and Eric Chang. Sunday (Dec. 16) at 2:30pm; Spangenberg Theatre, Gunn High School, 780 Arastadero Road, Palo Alto; $5/$10; Ticketmaster.

Voices in Harmony The Menlo Brass Quintet joints the men's a cappella chorus Voices in Harmony for an afternoon of holiday songs. Guest stars the Late Show, a vocal quartet, round out the concert. Sunday (Dec. 16) at 3pm; California Theatre, 345 S. First St., San Jose; $20–$35; 877.684.3844.
Send a letter to the editor about this story.