12.12.07
home | metro silicon valley index | columns | live feed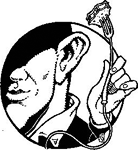 Live Feed
Eat These Books
By Cheryl Sternman Rule
IF I COULD eat cookbooks, I would. What if they had scratch-and-sniff pages? Then I'd really be in trouble. Sadly, in the age of Giada, Rachael and Sanda Lee it has become nearly impossible for authors without major corporate backing and splashy television platforms to get the shelf space they deserve in big box bookstores. But I can guarantee you that the books I cook from the most, the ones that I annotate like a crazy person (THIS SAUCE IS SO CREAMY!!!), were written by someone who doesn't have a Big Name or their own slot on the Food Network. And that's a good thing. Because if they were famous, they'd be jetting all over the country hawking their signature Calphalon saucepans instead of slaving away in their kitchens. Some of my favorite new releases are from authors with Bay Area ties. Here are three to buy for someone special, or to read (or eat) on your own.
Sticky, Chewy, Messy, Gooey by Jill O'Connor (Chronicle Books; 168 pages; $22.95 cloth). Though O'Connor now lives in Southern California, she grew up in east San Jose and attended James Lick High and Santa Clara University. When she held a booksigning last month at Hicklebees in Willow Glen, where her mom worked for 15 years, the place was packed to bursting. (Maybe it had something to do with the free samples of grilled chocolate pound cake sandwiches.) O'Connor and her book are infectious: this is a woman who's both a fantastic writer and an accomplished pastry chef, and with its quirky typeface and jaunty color palette Sticky, Chewy, her fifth cookbook, is just plain fun. Recipes like "sugar-crusted brownie sundaes with whiskey-walnut caramel sauce," "cinnamon-donut bread pudding," and "brown butter almond cake with caramel apples" make me giddy. Pure Dessert by Alice Medrich (Artisan; 272 pages; $35 cloth). Berkeley-based Medrich's last book, Bittersweet, holds a place of prominence in my kitchen, and her sophisticated "almond sticks with cocoa nibs" are among my all-time favorite cookies. Of course, you can tell from the title of her newest offering that it's about as different from O'Connor's book as you can get. Whereas Sticky, Chewy is all about over-the-top excess and sheer decadence, Pure Dessert pares the sweet course down to its simplest, most elemental form. Flipping through the pages is a serene experience, though with recipes like "cardamom roasted figs and golden vanilla bean caramels" I'd definitely eat this book as well.
If you cook too much from my first two selections you'll weigh 400 pounds by New Year's, so my final pick is virtuous one: Heidi Swanson's Super Natural Cooking: Five Ways To Incorporate Whole and Natural Ingredients into Your Cooking (Celestial Arts; 215 pages; $20 paper). Swanson rose to web fame as the author of the beautifully photographed vegetarian food blog 101cookbooks.com, on which she details her ongoing quest to cook from the books already lining her shelves. Super Natural Cooking is her second cookbook, and it's squarely focused on using natural foods and healthful ingredients in unique but surprisingly approachable ways. You'll need access to a health food store (or a Whole Foods) for some items, like teff (the Ethiopian grain) and hijiki (a Japanese sea vegetable), but her recipes for "chunky vegetable soup" and "green-packed stir-fry with fresh herbs" will make you a true believer in the power of treating your body well. They'll also leave plenty of room for dessert.
Send a letter to the editor about this story.