12.12.07
home | metro silicon valley index | movies | current reviews | film review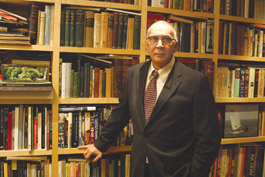 Photograph by Annabel Clark
TOME RAIDER: Frank Langella plays Leonard Schiller, a forgotten, out-of-print literary figure, in 'Starting Out in the Evening.'
Stone Reader
A New York author faces the ultimate remaindering in 'Starting Out in the Evening'
By Richard von Busack
OFTEN, WHEN a critic mentions the vicissitudes of an actor's career, it's not to mock but to celebrate: Look, he's come through! Though he had enough dash to play both Zorro and Dracula, Frank Langella was often badly used in the movies. Twenty years ago, writing about the time Langella donned the mask of Skeletor in a stenchy He-Man movie, I urged readers to remember that Langella was no mook. That happened again when he was bidden to pantomime the remnants of a man eaten alive by Madonna in 1993's Body of Evidence.
Langella is back on top. The drama Starting Out in the Evening by Andrew Wagner is far too solemn for its own good, yet Langella displays real fortitude and intelligence. He plays Leonard Schiller, a writer who published four books, all out of print. His orderly solitude is disturbed by Heather (Lauren Ambrose, the off-kilter daughter from Six Feet Under). This eager-beaver Brown grad student is certain she can start a revival of Schiller's work. With shining eyes, she reminds Schiller that even Faulkner was out of print once upon a time.
Schiller seems to have little faith in a revival. Moreover, he's not the man he was ever since his heart surgery: "They cracked me open like a lobster." Presumably this brush with death had only deepened the deep seriousness of this New York Jewish literary professor, who almost never takes the coat and tie off. It's hard to prove the merit of his prose—that may be immaterial, anyway. There's no way to make serious prose sound right onscreen, as we heard during the narration sequences in The Assassination of Jesse James. Schiller has, in any case, one true believer. And a Village Voice editor (Jessica Hecht) remembers Schiller as a colleague of Delmore Schwartz and Saul Bellow, if not much else. Continuing to write in the face of the Ultimate Remaindering is what Schiller calls "artistic madness." My question is, where is the mania of that madness? We get one flash of it, when, ailing and furious, he slaps the patronization right out of a guest.
But neither love of women nor grudges nor burning nostalgia seems to keep him going; he remains as calm as a Dewar's advertisement picture of a writer. And, again as in The Assassination of Jesse James, the film is ultimately concerned about nothing more than whether this persistent young disciple means him good or ill. Still, Langella plays the role with dignity and gravity. But Starting Out in the Evening might crumble if it weren't for Lili Taylor, who plays his daughter. Like Langella, she's also given a real gift of a part as a warm and open-minded woman who is about to hit 40 and is longing for a child. Taylor makes this need plaintive and sweet, instead of shrill and annoying. The parallel between the writer and his daughter, both yearning for fruition in the face of time is subtle. It's so subtle, I almost feel bad about underlining it.

STARTING OUT IN THE EVENING (PG-13; 111 min.), directed by Andrew Wagner, written by Wagner and Fred Parnes, based on the novel by Brian Morton, photographed by Harlan Bosmajian and starring Frank Langella, Lili Taylor and Lauren Ambrose, opens Dec. 14 at Camera 12 in San Jose and the Guildin Menlo Park.
Send a letter to the editor about this story.