12.12.07
home | metro silicon valley index | music & nightlife | band review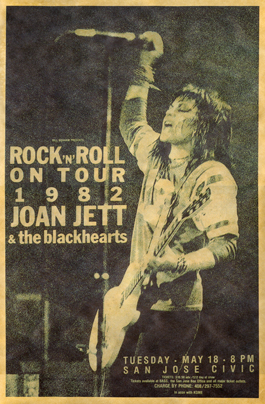 POSTER GRRRL:
One year after her appearance in 'Urgh: A Music War,' Jett performed right here at the Civic Auditorium.
Last FreakStanding
Early-'80s Joan Jett vs. 21st-century Joan Jett: Still strange
By Steve Palopoli
I DON'T really care if you think I'm strange," Joan Jett sang on "Bad Reputation," "I ain't gonna change."Her Jett-propulsion delivery of the song was one of the highlights of the 1981 film Urgh: A Music War, proving conclusively in two minutes and 40 seconds that Jett was indeed the original riot grrrl.
It's one of the last great injustices of the DVD age that Urgh remains a lost concert film. Made up of live performances from some of the top bands in the 1980 rock underground, it's the best document of the New Wave era before it exploded. Several of these bands got bigger, but many of them never sounded better than they do in the raw live versions they played in the film. I'd trade almost anything the Police put out on their proper albums for the version of "Driven to Tears" they do here. XTC sound like they once could have beat the Talking Heads at their own game on "Respectable Street." Wall of Voodoo are downright scary doing "Back in Flesh." And every Cramps fan needs to see their primal-scream assault on the Johnny Burnette Trio's "Tear It Up." Mostly, though, the world needs to rediscover the truth that has been lost to a tangle of Urgh's rights-ownership issues: these people were total freaks. I'm not even talking about Gary Numan driving around in that stupid little car onstage. I'm talking about the sheer perversity of the bands from that time.
See, you hear a lot of talk about how Britney and Christina took girl-pop lewdness to a new low. Anyone who says that knows nothing about the Go-Gos, who also appear in Urgh. This is a band who, according to drummer Gina Schock in the book Rock Confidential, used to play a game called "Corner Cleaners," which involved sucking filth off the floor of rest stop bathrooms. I am not kidding. And if you think wearing a schoolgirl outfit in a video is "racy," check out this quote from lead singer Belinda Carlisle about the former L.A. club Masque, in the same book: "I had sex at the Masque; everybody had sex at the Masque. You just did. It was great. Everybody was making out with each other in the bathrooms—lots of girls with girls. Everybody was on acid. My thing was acid or MDMA." Apparently, the Go-Gos lips were rarely sealed.This is also a time, keep in mind, when Oingo Boingo (who play "Ain't This the Life" in Urgh) had a record out with a song called "Nasty Habits" that was actually pro-nasty habits, and another called "Little Girls," featuring the chorus "I love little girls, they make me feel so good." And that song had a fucking video!
The thing is, almost all the freaks in that scene grew up and went normal. Even the Cramps, though they will always be gloriously weird, probably peaked in terms of freak-factor by their Stay Sick! album.
The true surprise has been Joan Jett. After charting several pop hits and starring in Light of Day, she should have been set to cash in her chips and settle on Respectable Street. Instead, she hooked up with her riot grrrl following in the '90s, producing and playing with Bikini Kill and fronting the Gits after Mia Zapata was tragically murdered.
Unlike her former fellow scenesters, Jett has only gotten kinkier. After calling her 1997 compilation Fit to Be Tied, she appeared on the cover of 1999's Fetish in a collar and leash. Oddly, she sounds more like a domme on the actual song "Fetish," which rhymes "latex" with "rough sex" and includes the line "relax while I pound your ass." On a related note, she does a live version of the Stooges' "I Wanna Be Your Dog" that is second only to that of Iggy Pop himself.
"Fetish" turned up again on Sinner, her record from last year. It was her first album of (mostly) new songs in over a decade, and included a cover of Sweet's song "A.C.D.C." Jett has always had a way with covers ("I Love Rock and Roll," for instance, was originally performed by the Arrows), and somehow she manages to make the lines "she can sing/ you wanna see her ding-a-ling" seem even edgier than in the original.
At this point, I think we can all agree: she don't really care if you think she's strange. Unlike Sting, she ain't gonna change.
JOAN JETT performs on Saturday (Dec. 15) at 8pm at San Jose Civic Auditorium, 135 W. San Carlos St., San Jose. $37–$67. (888.455.SHOW)
Send a letter to the editor about this story.