12.12.07
home | metro silicon valley index | music & nightlife | band review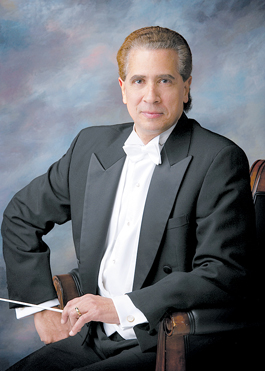 FROM VIOLIN TO BATON: Guest conductor Guillermo Figueroa started his career as a renowned violinist.
Picture Show
Guest conductor Guillermo Figueroa and Symphony Silicon Valley wrestled with 'Pictures at an Exhibition'
By Scott MacClelland
ON THE PODIUM Sunday at the California Theatre, Puerto Rico native Guillermo Figueroa introduced both himself and the first piece of the program to Symphony Silicon Valley's matinee audience. A scion of Puerto Rico's musical "royal family," Figueroa made a name for himself as a violinist before taking up the baton, not least as a founding member and frequent soloist with the Orpheus Chamber Orchestra. He studied violin with Oscar Shumsky and Felix Galimir and conducting with Harold Farberman, who wrote a concerto for him. (As a former associate of conductor George Cleve, it was not a surprise to see Cleve in the audience.) That opening piece, Fandangos, is Roberto Sierra's 2001 update of the Catalan-born priest and composer Antonio Soler's long-winded Fandango. The original, from the latter part of the 18th century, was written for harpsichord in the manner of Domenico Scarlatti, the much older master with whom Soler had studied. While the original never actually embraces fandango rhythm, its obstinately repeating A major–D minor harmonies have come to be recognized as the fandango—even flamenco—"sound," and can be heard again a similarly invented movement from the same era in Boccherini's Guitar Quintet in D. Sierra's version is attention grabbing in its vivacious, kaleidoscopic orchestration, finally reaching a climax a la Ravel's Bolero. The very large orchestra, and all the exotic percussion it requires, gave it a winning performance rewarded by the audience with cheers.
The cellist Gary Hoffman returned to San Jose after last season's triumphant performances of Shostakovich's first cello concerto, this time for two French works. The short Saint-Saëns first concerto (the only one of two that ever gets played) was preceded by the Elégie in C Minor by Fauré. These were handsomely played by Hoffman, especially the deeply expressive Fauré, but back-to-back the latter was like celebrating the funereal former with a frothy glass of champagne. The concerto is facile to the point of glibness and virtuosic without bravura, though certainly not lacking in craftsmanship, and as ephemeral as a zephyr. Figueroa and the orchestra supplied fine accounts of each.
The remainder of the program went to Ravel's famous orchestration of Mussorgsky's Pictures at an Exhibition. Surprisingly for this concert staple, the orchestra was off its stride. The first "picture," "Gnomus," was jerky, as Figueroa no doubt wanted it, but clumsy in the execution. Visiting saxophonist David Henderson cracked a couple of notes in "Il vecchio castello." The "Tuileries," at a brisk tempo, was not cleanly articulated. Tony Clements used his 19th-century handmade tuba—smaller than the familiar bass tuba—for his high-lying solo in "Bydlo," but his sweetness of tone suffered a touch or two of tarnish.
The "Ballet of Unhatched Chicks" sparkled (even though it somehow got deleted from the program handout), as did most of the rest of the reading. It seemed that Figueroa might not have budgeted enough rehearsal time for the capricious twists and turns he called for. One sharp tutti cutoff actually came to an end in three ragged steps. No doubt these little gaffes wouldn't have occurred if conductor and orchestra had a long-term working relationship—and they do underscore the value of an installed music director. Reiterating the promenade theme that holds the work together, Baba Yaga" and "The Great Gate at Kiev" roared with splendid noise and more acclaim by the full house audience.
For the next subscription series, Jan. 17, 19–20, violinist Joseph Silverstein returns to the symphony as soloist and conductor for Vaughan Williams' Lark Ascending and Mozart's Violin Concerto no. 5, and to conduct Elgar's Enigma Variations.
Send a letter to the editor about this story.