December 13-19, 2006
home | metro silicon valley index | music & nightlife | review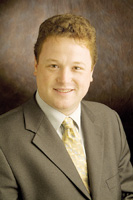 Podium power: Rising star Gregory Vajda led Symphony Silicon Valley in a program of Ravel, Vivaldi and Beethoven.
Principal Interest
Symphony Silicon Valley showcased its orchestra principals in weekend concert
By Scott MacClelland
IT WOULDN'T occur to symphony president Andrew Bales at first thought, but the biggest feather in his cap is enticing San Jose to fall in love with Symphony Silicon Valley. Sunday afternoon's sell-out audience at the California Theatre couldn't have made it plainer; everything on the program won loud, long applause and standing ovations for the soloists after each of four concertos.
Not bad, after only five years of the entity Bales resurrected from the cold ashes of the unlamented San Jose Symphony. Of course, there was exquisite method in Bales' madness, capitalizing on the wisdom of Sammy Cahn and Jimmy Van Heusen, "Love is lovelier the second time around." In fact, SSV's personnel are largely the same as SJS's. Only now, the organization makes a big deal of the very talent taken largely for granted by its predecessor. (Are you listening, American Symphony Orchestra League?)
Guest conductor Gregory Vajda, a rising podium star born in Budapest, opened his program with Ravel's Le Tombeau de Couperin, those four exquisite miniatures that memorialize both the French Baroque and Ravel's friends who died in World War I. Vajda had obviously fussed over the details in rehearsal; the wind solos glowed in their transparency, the dissonances were piquant and the whole brightly articulate.
The focus intensified on orchestra principals in three Vivaldi concertos. Violinists Robin Mayforth and Christina Mok gave an authoritative reading of the popular Concerto for Two Violins in A Minor, RV 522, followed by bassoonist Deborah Kramer, who tossed off from memory the virtuosic Concerto in E-flat, RV4830 (making one wonder why the composer's solo bassoon concertos—greater in number than any except those for violin—get so little exposure).
A Vivaldi homage to the French took the form of a violin sonata that caught the fancy of French trumpet virtuoso Maurice Andre. Its three movements (allemande, sarabande, courante) as arranged by Vicky Greenbaum, were tootled with élan by the orchestra's principal trumpet, James Dooley.
Local hero Jon Nakamatsu returned to cheers for Beethoven's heroic Emperor Piano Concerto. Without the brawn some matinee idols bring to it, Nakamatsu was at his personal and poetic best in the slow movement, one of the composer's most melting. Conductor and soloist were completely in sync for this performance, as intimate in the quiet utterances as they were boisterous in the big bravura passages. Nakamatsu, in dark gray, was all about the business of art, not the showing off that many of his colleagues can't resist. An explosion of audience approbation brought him back to the stage again and again. He must really like Schubert's Impromptu in E-flat, playing it as an encore, just as he had at the Sunday matinee last spring after his Grieg concerto.
I asked Bales how he enjoyed being the orchestra's Generalmusikdirector. He demurred on the title, but admitted having fun planning programs and matching them with guest conductors. Until 2007-08 details are concluded next month, expect a return to the podium of at least Paul Polivnick and George Cleve.
Send a letter to the editor about this story.