December 14-20, 2005
home | metro silicon valley index | news | silicon valley | feature article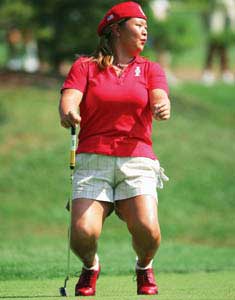 Photograph by Andy Lyons/Getty Images
Swing Out Sister
Known for her potty mouth and colorful outfits, pro golfer and San Jose native Christina Kim made 2005 her breakout year in more ways than one
By Todd Inoue
THE PHONE LINE crackles with static, but the LPGA's 19th ranked golfer—Oak Grove High School product Christina Kim—is crystal clear about her mission in 2006.
"I want to see Annika fall from the skies," Kim says, calling from her December training facility in Seoul, Korea. "I want to be No. 1 in the world, to get to No. 1 on the money list. As much training as I'm doing right now, that's something I'm looking forward to. It seems more attainable than it was two years ago."
Two years ago, Kim was a heralded rookie. In 2004, she won her first tournament at the Longs Drugs Challenge. In 2005, she was on the U.S. team that defeated Europe to win the Solheim Cup. Then, in addition to her four top 10 finishes, Kim won her second tournament on Nov. 13 in the LPGA Tournament of Champions—shooting a 5 under 67.
Yet for all her accomplishments, Kim's arrival on the greens signals an even more significant—but less tangible—change. For a game steeped in tradition and reserved tranquility, Kim is an anomaly in the LPGA; she's an outspoken character who prefers tight and bright to button-down and beige. She wears wool Kangol hats, twisted backward B-girl style. She shops at Hot Topic and describes herself as a "hip-hop goth." On the fairway, she keeps things light, cracking risqué jokes and expressing emotions, pumping her fists or taunting a sunken putt like an Ultimate Fighter hovering over a KO'd opponent. Like Rodney Dangerfield's Caddyshack character Al Czervik, Kim has shaken up the staunch LPGA with the subtlety of a Hummer golf cart customized with bass cabinets, 22-inch spinners and periscope tap of Patron (her drink of choice).
"When I'm out there, I do everything on the course the way I do everything else in life: I live it to the fullest. I'm a loud, brash, outspoken person. I dress accordingly. I'm the kind of person that believes that, in every aspect of life, you should not hold back, ever."
She walks the talk. During the Solheim Cup, Kim donned face paint along with her day-glo wardrobe and her outbursts captured the heart of golfers and fans worldwide. She cracks dirty jokes to her pro-am partners to break the ice.
Not that her larger-than-life antics always go down smooth. There was the time things got tense with threesome partner Cristie Kerr. Kim and golfer Jennifer Rosales were doing Rock Paper Scissors to ascertain who could use a honey bucket first. Embarrassed, Kerr glared and admonished them to be more professional. An argument ensued, but everything is quashed, sort of.
"She wasn't a full bitch about it," Kim says. "Everyone's allowed their own opinion. I respect what she said because she had to do whatever to let loose her nervousness. In order to get to my spot, I like to cause trouble, but I don't like getting in arguments. Sometimes you say silly things in the heat of the moment. I didn't mind; I was like, 'Whatever, dude.'"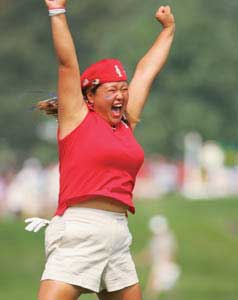 Photograph by Scott Halleran/Getty Images
Christina Kim now calls Orlando home, but Cali is her foundation. She learned her swing in the backyard of her Blossom Valley home where her father, Han (who is also her current caddie and coach), set up a golf cage and made her practice 500 swings a day for a month before hitting a real ball. She spent her junior golf years at the Santa Clara Golf and Country Club near Great America. She left Oak Grove High School during her junior year to focus on golf (she eventually got her high school equivalency). Golf was her escape and future meal ticket. Plus, she had a regular crew of junior golfers to pal around with.
"If you looked in the dictionary for 'range rat,' you'd see my picture there. We'd have such a great time. Golf taught us a lot about people. You can go out with someone you don't know, play a round with them and you'll know a lot about them—not necessarily about the actual events in their lives, but the kind of person they are. You can learn so much about a person through golf—their sense of honesty, reality, how well they can read and judge things."
This month, Kim's been prepping for the February start of the 2006 LPGA season in the wintry climes of Seoul: jogging, range sessions, weight training, yoga, stretching and flexibility, acupuncture and sports massage. She flies back at the end of the month. She's weighing options for New Year's Eve: fly back to the Bay Area and party with high school friends or celebrate in Miami.
An outside option is to take care of sponsorship business in New York. She's signing with Octagon—the marketing home of John Elway, Michael Phelps and Mia Hamm. With her power game (she averages 232 yards a drive), loud clothes and outgoing personality, Kim could be the first female golfer sponsored by Hot Topic and Kangol.
"I'm happy being loud and obnoxious, maybe rude at times. People seem to embrace that and understand that about me. I don't feel like I should change. That's why I succeed as well as I do because, shit—I'm real."
Send a letter to the editor about this story.