12.17.08
home | metro silicon valley index | columns | silicon alleys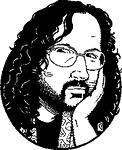 Silicon Alleys
Market Fresh
By Gary Singh
SAN JOSE'S definitive polarizing former Mayor Tom McEnery has plans to revamp the entire San Pedro Square historic district in downtown San Jose and build a permanent outdoor public market neighborhood, anchored by the Peralta Adobe and the Fallon House and inspired by world-renowned locales like the Granville Island Public Market in Vancouver, British Columbia. Now, for decades San Jose has excelled at allocating public money for failed downtown projects, so the rest of the citizenry out there in the suburbs is hyperpessimistic about such an ambitious project, especially one that yet again asks for a taxpayer "loan." But since the San Jose Public Market is a great idea in theory, if you flesh it out, I'll save the political, legal and financial brouhahas for more specialized commentators and instead offer my own conjecture.
It's simple, really: San Jose is the oldest settlement in California and the Peralta Adobe is its oldest building. Except for schoolkids on field trips, few people ever go there; the place has never been properly marketed, and the whole neighborhood has been underachieving for what seems like forever. Any other city in the same situation would have figured out long ago that there should be a huge outdoor public space and town square, filled with upscale and downscale retail, perpetual outdoor street activities, a food market for everyone of all shapes and sizes and a plethora of goings-on for both natives and visitors, whether you're a country club aristocrat, a local farmer or someone who's lost or just here on business. It would all be anchored on an open market area as the main destination and public space where everyone would want to go and hang out—a place that would at least offer some degree of identity in a city that sorely lacks one. Such a bold idea would totally synergize with the new glassy high-rise condos, should they get filled. If you're suspicious of McEnery's motives, fine. But for the moment, I'll revel in the inspiration, since I just revisited the Granville Island Public Market last weekend.
Granville Island is a former run-down industrial wasteland in the middle of Vancouver that was transformed into a thriving mixed-use urban oasis filled with artists' lofts, unique shops, crafts, studios, a brewery, an art college, a hotel and the Granville Island Public Market, which is chock-filled with local products. The old industrial factory architecture was retained, and no chain establishments are allowed anywhere in the neighborhood. Working artists have to compete to secure leases. Whether you're looking for freshly caught fish, locally grown spices or a handmade coffee table, Granville Island has it.
In case San Jo wants more inspiration from Vancouver, here's another gem: a book called Vancouver Stories: West Coast Fiction From Canada's Best Writers, from Raincoast Books. Everyone who stays at the Listel Hotel in Vancouver receives a free copy of this book and it features 14 short stories, each capturing a different crackpot slice of the city. For example, in a tale called The Winter Market, cyberpunk science fiction author William Gibson, a Vancouverite, places Granville Island decades in the future when it has collapsed into another cycle of ruin, its surrounding high-rise condominiums now dilapidated slums. The desolate market area is where "kids huddle over the flames of their trash fires like arthritic crows" and the city surrounding the market is "where the broken and the lost burrow into the gomi [garbage] that grows like humus at the bases of the towers of glass."
If you want to get rip-roaring cynical, that could happen to San Jose's public market area 20 years from now. Downtown thrived, then collapsed for 30 years and is now rebuilding. Will the cycle repeat itself? I don't know, but I'm sure inspired to write a story about it.
Contact Gary Singh or send a letter to the editor about this story.