12.17.08
home | metro silicon valley index | the arts | books | review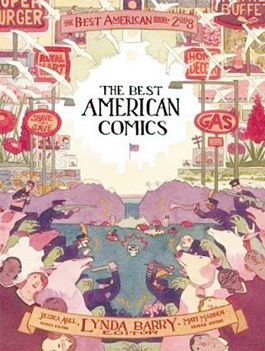 Best American Comics 2008
Reviewed by Richard von Busack
THOUGH her Ernie Pook Comeek appears in a decreasing number of newspapers, Linda Barry seems on the verge of some artistic breakthrough. In fact, by far the best thing in The Best American Comics 2008 collection is her intro, done on legal pad in colored pencil with watercolor. Depicting herself as a granny-monkey in housecoat and kerchief, Barry makes an argument for the singular power of the graphic image, while taking a bold stand: "One of the greatest of all time," in her opinion, is the much-derided Bil Keane. To Barry, The Family Circus was a hole in the turbulent world she lived in as a child, and the collection is heavy on both childish consolation and adult angst.
This anthology is the gold standard of comics. It's not the newcomers that make it so but the solid work of longtime professionals. On the grounds that Matt Groening published a collection of mid-1990s Life in Hell strips this year, Barry includes his charming (and kind of Keane-like) eavesdropping on his young children, chatting about their trip to Bali or their brilliant ideas for monster movies: The Ghost Is Behind You is one title that ought to be in development right away.
Also seeking the universal appeal of 1960s children comics, Jaime Hernandez's Golddiggers of 1969 depicts the typical push and pull of poverty-stricken single parenthood in tiny cutely drawn frames; look closely, and you'll see he's doing the origin story of some of the Love and Rockets gang. Chris Ware's immaculate, intricate work for The New Yorker's Thanksgiving issue is a marvel of miniaturization; peer into the squares and see the entire history of a fictional lost soldier of World War II. And stalwarts as different as Alison Bechdel, Metro regular Rick Geary and Kaz (father of the douche-bag rodent "Creep Rat") demonstrate the kind of classic, intrepid cartooning that looks good for decades. Among the newcomers, Sarah Oleksyk and Gene Luen Yang are especially not to be missed. (Edited by Linda Barry; Houghton Mifflin; 324 pages; $22 hardback)
Send a letter to the editor about this story.