12.17.08
home | metro silicon valley index | movies | current reviews | dvd review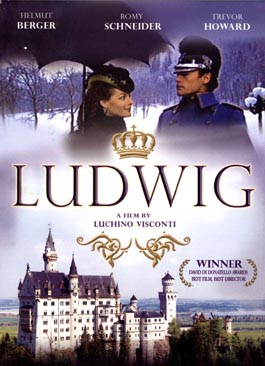 Ludwig
Two discs; KOCH Lorber Films; $39.98
Reviewed by Michael S. Gant
For one of the original Neorealists (Ossessione, about the troubles of truckers and drifters, and La Terra Trema, about the travails of poor fishermen), director Luchino Visconti evinces a taste for the decadent pleasures of the upper classes, perhaps because he hailed from an aristo lineage. In The Leopard, with Burt Lancaster, he traced the decline and fall of a wealthy family; his German trilogy included an adaptation of Thomas Mann's Death in Venice, a birth-of-the-Nazis spectacle called The Damned and his 1972 four-hour epic Ludwig. Ludwig II of Bavaria (1845–86) is known for his budget-busting castles (although they may have recouped their costs in tourist admissions by now) and his patronage of Richard Wagner. A wise steward of his realm he was not, and the film unfolds as an investigation into his many crimes as worried ministers try to remove him from his throne. Austrian actor Helmut Berger, a sensation in the late '60s, plays Ludwig as a gorgeous obsessive, with flaring eyebrows and a winged hairdo as architecturally improbable as his castle towers. His need to attach himself to the aesthetic fame of Wagner seems admirable, but the king's later descent into mindless opulence and kinky sex prove that he was never fit to serve—which is Visconti's indictment of privilege. There's not much distance between Ludwig and Hitler, a point made in a lodge scene of lolling, half-naked young soldiers, which anticipates the SS orgy in The Damned. Berger's performance is mesmerizing even when the action slows way down for some speech-making by people trying to talk some sense into him. Trevor Howard is badly dubbed as Wagner; Romy Schneider plays Elisabeth of Austria, his cousin and one true, if thwarted, love. The film has been lovingly restored to its full running time; the DVD comes with an interesting documentary about Visconti's life and work (both in film and onstage) and a documentary about Silvana Mangano, who plays Wagner's mistress, Cosima Von Bülow.
Click Here to Talk About Movies at Metro's New Blog
Send a letter to the editor about this story.