12.17.08
home | metro silicon valley index | movies | current reviews | film review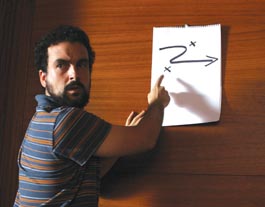 Photograph by Magnet Releasing
CONNECTING THE DOTS: Nacho Vigalondo's doctor sketches out an equation in 'Time Crimes.'
The Hours
A man chases his own tale through time in 'Timecrimes'
By Richard von Busack
ORDINARILY, the English-language remake of a foreign film is deplorable, but in the instance of the Spanish import Timecrimes, let's go for it. David Cronenberg is slated to do the upcoming translation, and he's certain to take the ingenious plot and bring some depth to it. Timecrimes is a sort-of slasher movie disguised as a chrononaut tale. Héctor (Karra Elejalde) is a sated middle-aged husband who is renovating a villa in the country, with the help of his wife, Clara (Candela Fernández). Resting his bulk in a lawn chair, he surveys the forest for local birds with binoculars. He soon finds a bird, in the British sense of the word: a topless babe (Bárbara Goenaga), apparently sunning herself. When Hector goes out to investigate, he finds this girl naked and dead. That's when he gets the point of a pair of scissors right in his arm.His assailant is a monstrous figure whose bleeding face is swathed in carnation-pink bandages. Escaping this beast, Hector ducks into a local laboratory. There, a scientist (director Nacho Vigalondo) urges Hector to hide in a steel tank full of milky fluid. "I'd get in with you, but I have to close the lid," says the scientist. Even Sylvester Pussycat might have been wary about that one. The tank is a time machine. Hector pops out earlier than he arrived, soaked and slightly deranged. He charges out. In the woods, he runs into the same nameless girl, now dressed, now alive and still (in any form) as credulous as hell—kidnapped and forcibly posed for the tableau Hector first saw from his lawn chair.
It's a thrifty film, and that's why Timecrimes has its cult. It gives novice filmmakers the inspiration for how to make something entertaining out of very simple elements: a country setting, a compliant girl and a masked monster. (Even the bandage makeup is cost-effective, like a kid's backyard version of The Invisible Man.) Despite the ingenuity of its less-described-the-better plot, Vigalondo either doesn't develop (or perhaps doesn't intend) his satire of machismo. No matter the scientist's warnings, Hector decides to track down the early version of himself, on the grounds that this "other man" (i.e., the man he was just a few hours previous) is trying to steal his wife.
The to and fro of Timecrimes is well thought out, but the film lacks humor. Watching this dogged Hector chase his own tail, I wished that I was back in time a few months watching the first Futurama movie's witty, Escher-like blending of separate realities. I'll bet King Cronenberg knows what to do with this material.

TIMECRIMES (R; 88 min.), directed and written by Nacho Vigalondo, photographed by Flavio Martinez Labiano and starring Karra Elejalde, opens Dec. 19.
Click Here to Talk About Movies at Metro's New Blog
Send a letter to the editor about this story.