12.19.07
home | metro silicon valley index | the arts | visual arts | review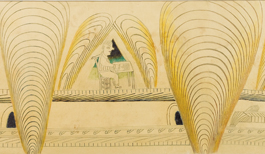 Collection of Jennifer Pinto Safian/photo by Gavin shworth, New York
ARTIST AT WORK: A detail from Martín Ramírez's painting 'Untitled (The Three Scribes)'
Image Banks
The year's best art shows embraced collage and assemblage masters
By Michael S. Gant
IN MAY, British artist Damien Hirst displayed a platinum skull encrusted with diamonds and titled For the Love of God. It might as well have been called For the Love of Mammon—in August, the piece sold at auction to an investment group for $100 million. Closer to home, Icelandic artist Olafur Eliasson showed off a different kind of ice at SFMOMA with Your tempo, a BMW sprayed with water and frozen solid. You have to wear a blanket to endure the piece's temperature-controlled room (it chills out until Jan. 13).
Luckily, the museum and gallery shows of 2007 in Silicon Valley didn't traffic in such high-concept provocation. The best-of baker's decalogue of the year follows in no particular order except my own futile wish that I had 75 million euros (got to adjust for that weak dollar) to spread around.

1) Martín Ramírez at the San Jose Museum of Art
The Mexican-American artist spent most of his life in California state mental hospitals, but his incarceration didn't stop him from gathering scraps of paper, making his own pigments and bequeathing us an astonishing body of drawings, paintings and collages full of rushing trains, totemistic animals, elongated Madonnas and sere landscapes of hills and valleys rendered by rhythmic accumulation of curved lines. The show (supplemented with archive material at the Mexican Heritage Plaza) proved that terms like "outsider" and "eccentric" art really have no meaning in the face of real genius.

2) 'Joseph Cornell: Navigating the Imagination' at SFMOMA
Cornell's marvelous boxes are a key part of American surrealism, but it's not often that they can be seen in person. The MOMA show (which runs through Jan. 6) brings together some 200 Cornell constructions in the first retrospective in nearly 25 years. An obsessive collector, Cornell filled handmade, glass-fronted boxes with exquisite arrangements of strange and evocative objects: cork balls, marbles, old constellation maps, images of movie stars and forgotten ballet divas. In all his art, he acted on his belief that "everything could be used in a lifetime." That ethos makes Cornell the supreme Proustian visual artist—his boxes recapture and preserve the past.

3) 'Anxious Objects: Willie Cole's Favorite Brands' at the Cantor Arts Center, Stanford
A different kind of assemblage expert, African American artist Willie Cole takes found objects—discarded shoes, old irons—and uses them as the building blocks of transformation. He strings together old dryer parts to form a grimacing Asian deity with vent holes for eyes. Some bicycle frames easily morph into the antlers of an antelope. Translating African tribal motifs into a contemporary context, Cole makes a goddess figure out of the metal shells of steam irons. The flea market will never look the same after this show. (Show ends Jan. 6.)

4) Jess at the San Jose Museum of Art
No one wielded a pair of scissors like Bay Area artist Jess, who rummaged through magazines, textbooks, catalogs and ad sheets, slicing out resonant images and assembling them in complex creations that he called "paste-ups." From his Tricky Cad series, in which he fashioned Dada word balloons for Dick Tracy comic strips, to vast paste-ups so crowded with cascading found images that the pieces appear almost 3-D, Jess outdid even the grandfather of collage, Max Ernst.

5) Manuel Valencia at History San José
The 1906 earthquake forced painter Manuel Valencia to relocate to San Jose for six years. That's long enough for us to claim Valencia as a significant and underrated part of the California impressionist and plein air movement of the turn of the last century. Valencia's 1910 view of the Monterey Customs House under the stars equals the best nocturnes of Charles Rollo Peters. Valencia was also a supreme observer of the faded glory of California's missions.

6) 'Correspondence: Masami Teraoka & Ukiyo-e' at the Palo Alto Art Center
Japanese-American artist uses his expert knowledge of 19th-century Japanese woodblock techniques to mount a visual clash of old and new. A samurai, top-heavy with golf clubs, plunges down a cliff; a bamboo broom sweeps up detritus from McDonald's. His earlier celebrations of eros turned darker in the face of AIDS—a skeletal apparition out of Japanese folklore hovers over a woman unfurling a giant kitelike condom. This smart show also included some examples of traditional Japanese woodblock prints for comparison.

7) 'Il Lee: Ballpoint Abstractions'
Using thousands of Papermate ballpoint pens, Korean-born Il Lee covers large sheets of paper and canvas with tangled skeins of narrow lines that are cross-hatched so thoroughly that they become fields of pure inky blackness. From intense black squares, Lee draws shooting threads of ink that dance into the white space, like eruptions of gravitational energy from a black hole.

8) 'Yosemite's Structure and Textures: Photographs by Eadweard Muybridge, Carleton Watkins, Ansel Adams and Others' at the Cantor Arts Center, Stanford
This marvelous show paired the pioneering work of 19th-century photographers Muybridge, Watkins and George Fiske with the iconic images of Yosemite's most famous acolyte, Ansel Adams. Watkins first visited Yosemite in the early 1860s, toting a large-format camera and lots of noxious developing chemicals. His mammoth negatives allowed him to capture a staggering range of detail across great distances. Mirror View of El Capitan is perfectly framed but given a dose of dynamism from a felled tree jutting across a lower corner.

9) 'Triunfo del Trabajador' by Cristina Cantu Diaz at Chicano/a show at MACLA
MACLA's biennial look at new Chicano art was dominated by Diaz's witty yet weighty sculpture. Triunfo del Trabajador is a human-size arch made from empty fruit and vegetable packing boxes attached to iron rebar. The boxes are oddly angled, bristling and pointed. The familiar colorful logos—Airdrome Oranges, Baby Doll Tomatoes—remind us of all the migrant workers who pick the food we too often take for granted. The classical shape of the arch honors their labors as much as any marble monument.

10) 'Train' by Oliver Michaels at the 'Home Sweet Home' show at the San Jose Institute of Contemporary Art
Oliver Michaels' 14-minute DVD loop Train was the best video art I saw all year. Laying down modular track and mounting a small camera on the front of a toy train, Michaels takes us on a floor-level trek across scores of rooms both tidy and cluttered, through crawl spaces and underneath a glass-top table. The swoops and sudden turns as the train negotiates the track curves and plunges through mouse-hole tunnels' mouths imparts a dizzying sense of motion, like being on Mr. Toad's Wild Ride at Disneyland. Michaels has found a way to show us the most familiar homescape in a wildly different and exhilarating way.
11) 'Chalices' by Ken Matsumoto at the Triton Museum of Art
Sculptor Matsumoto likes to play with materials to achieve unexpected visions. At his current (through Dec. 30) show at the Triton, I was struck by two pieces constructed from square sheets of thin green glass stacked together—prone in one case, on edge in the other. Matsumoto has etched each sheet so that together they encase a curving vessel shape (something like a nose cone). This vessel seems to float within the glass like a hologram, changing position depending on your perspective. From the right angle, you can see the shape doubled or even tripled. It is a wondrous illusion of evanescence embedded in solidity.
Send a letter to the editor about this story.