12.19.07
home | metro silicon valley index | movies | current reviews | film review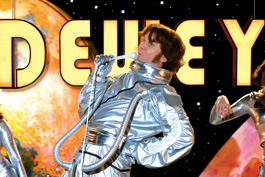 Photograph by Gemma La Mana
BLAST OFF: Dewey Cox shoots for the moon in 'Walk Hard.'
Cashing In
John C. Reilly makes a better Johnny Cash (and Roy Orbison) in musical satire 'Walk Hard: The Dewey Cox Story'
By Richard von Busack
A FINE LINE is walked between tribute and mockery in Walk Hard: The Dewey Cox Story. That line divides the ecstasies of an MC onstage during a musical tribute who tosses around Old Testament names to describe his generation of musicians ("Iggy Pop is our Methuselah") from the agony of being interviewed by a dunce of a reporter (the outstandingly debauched-looking Jane Lynch) who makes every question a verbal assault. Walk Hard succeeds in both celebrating and satirizing, because it has a real star, not just a Saturday Night Life sketcher. Certainly, Walk Hard seems like Ferrell-fodder: it is the work of people who can't get enough of a grown man running around in white jockey shorts. (The star gets a jock-strap scene, too; in mid-PCP rage, Cox overturns cars like Godzilla and scales a building like King Kong.) Still, star John C. Reilly makes the film more than a one-joke comedy following the well-worn ruts of the showbiz bio.
Reilly's Dewey Cox is an amiable yokel cursed with a family tragedy. His father shuns him, and he is disabled by an inability to handle his drugs. He careens through the 1950s with his first wife, a one-woman baby factory named Edith. In the role, Kristen Wiig satirizes every dull actress who ever bleated out the threat to leave and take the kids. Later, Dewey finds both muse and redeemer in his Christian second wife Darlene (Jenna Fischer, very good—probably the biggest female presence ever in a Judd Apatow movie). Together, they perform a hit, "Let's Duet." "We both know the sexual tension between us is palpable," Cox says, but their love life is star-crossed.
Reilly has always excelled at playing truculent yet pathetic, blocked-up men with hairy backs. Surprise—he also has a gift for comedy and a strong enough voice to make an acceptable Roy Orbison. Since we are following him from the era of Pat Boone to the fictional rapper Li'l Nutsack, Reilly gets to pursue a number of styles from Ring of Fire–era Johnny Cash to Smile-style Beach Boys.
The cast refreshes the movie. Craig Robinson is in fine shouting voice as an R&B musician who breaks his hands and gets laryngitis simultaneously, giving Dewey his first big chance. Chip Hormess, a young but gifted comedian, plays Dewey's perfect little brother, who dies horribly. Famous names that bolster Cox's story: Jack White of the White Stripes as Elvis, and a Beatles comprised of Jack Black, Justin Long, Jason Schwartzman and Paul Rudd. Director Jake Kasdan and co-writer Judd Apatow suggest that the funniest thing in a biopic is the hammering down of plot points. A ghost tells Dewey, "All I ask is for you to write a masterpiece that is the culmination of your life." When drugs and booze take their toll, Cox bellows, "This is a dark episode!" simultaneously banging away at a groupie and drinking a beer. We are accustomed to the moral lesson in biopics, the chalky aftertaste one puts up with for the music. Maybe Walk Hard: The Dewey Cox Story's derision will make that stuff extinct.

WALK HARD: THE DEWEY COX STORY (R; 100 min.), directed by Jake Kasdan, written by Kasdan and Judd Apatow, photographed by Uta Briesewitz and starring John C. Reilly, opens Dec. 21 valleywide.
Send a letter to the editor about this story.