12.19.07
home | metro silicon valley index | movies | current reviews | film review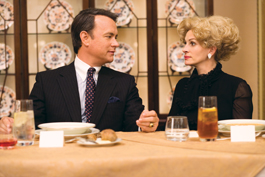 Photograph by Francois Duhamel
FORREST STUMPED: Tom Hanks isn't sure what to say to a frozen-faced Julia Roberts in Mike Nichols' 'Charlie Wilson's War.'
The Great Game
Foreign policy gets the Playboy Advisor technique in 'Charlie Wilson's War'
By Richard von Busack
MIKE NICHOLS' Charlie Wilson's War is about three songs away from turning into The Best Little Whorehouse in Texas, with Julia Roberts in the Dolly Parton role. Nichols loads the film with farce, laughs babes and the triangulation of Southern Baptist hotheads. It boasts a lighting-quick Philip Seymour Hoffman as a CIA agent who manages to get a ride to glory. Charlie Wilson's War does a better job of concealing its essential simple-mindedness than any other film this year, but then the jig is up. Nichols' two weaknesses—his poor staging of the war scenes and his attempt to add heart to a comedically heartless script—drain the fun away in the last third. The action begins with a typical comedic-funeral scene. This isn't a burial; it's a covert awards ceremony where a congressman is being lauded by the CIA. Hearing himself praised, the guest of honor, Rep. Charlie Wilson (Tom Hanks), shows the proverbial discomfort of a whore in church. His right-hand man, Gust Avrakotos (Hoffman), smiles thinly, considering everything he knows and won't tell. Flashback to a memorable reveal: in 1980, Wilson is sautéing in a hot tub full of topless women in Las Vegas. After this refreshment, he returns to D.C., fending off an angry constituent, who is made, by one rich camera angle, to appear to be smaller than the sole of Wilson's cowboy boot. The Texas congressman is tended by a team of secretaries who look like Dallas Cowgirls. And he is mother-henned by his adviser Bonnie, so we can watch the syncopated switch of Amy Adams' long red ponytail as she charges down the halls. The rapid scenes of Wilson's down-homeness and canniness show Southern politics done to a savory turn like nothing since A.J. Liebling's book The Earl of Louisiana.
Though he seems like a breezy nonentity, Wilson has a long history of covert operations. His achievements are rattled through so quickly that we don't quite catch them. Wilson funded the Contras and the Salvadoran death squads: real humanitarian labors, for sure. But the Great Game calls him when the Soviets invade Afghanistan. And Avrakotos, a geeky, unsavory CIA operative, nudges the playboy congressman into action. Wilson jets to Texas to rally a wealthy anti-communist political donor, Joanne Herring (Julia Roberts). Using her money and connections, Wilson engineers a proxy deal, getting Israeli guns into the hands of Pakistani proxies and then to the Afghani mujahedeen. The film ends on a slog of exuberant war scenes that both parody and epitomize the imbecility of the mid-1980s military thriller. Hoffman gets to go on a real rampage; he's monstrous, dirty fun, a backhanded warning against leaving the policymaking to spooks. But is this film really a warning? That's the question that can't be smoothed over by the ricocheting dialogue and Hanks' puppy-man face. Making a hero out of Charlie Wilson is like making a hero out of Oliver North. Scriptwriter Aaron Sorkin's West Wing–bred populism is too slick for its own good; the film insists that our leaders only lie to us for the best reasons.

CHARLIE WILSON'S WAR (R; 97 min.), directed by Mike Nichols, written by Aaron Sorkin, based on the book by George Crile, photographed by Stephen Goldblatt and starring Tom Hanks, Philip Seymour Hoffman and Julia Roberts, opens Dec. 21 valleywide.
Send a letter to the editor about this story.