12.19.07
home | metro silicon valley index | movies | current reviews | film review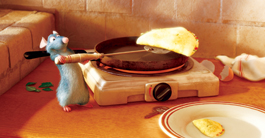 A COMEDY THAT REALLY COOKS: Remy the rat shows that breaking eggs can be funny, not tragic.
The Year of The Rat
'Ratatouille' did everything right in a movie year that was all wrong about the right to choose
By Richard von Busack
FOR REASONS I'll happily explain to anyone who cares, I am now following the snobby custom of including in my 2007 lists some movies that opened in New York and L.A. for Oscar consideration. And now, before any elaboration about the year in general, here are my choices, in no order, except for alphabetical.
THE BEST:
Away From Her
4 Months, 3 Weeks and 2 Days
Hot Fuzz/Don't (trailer fromGrindhouse, both by director Edgar Wright)
I'm Not There
Inland Empire
No End in Sight
Persepolis
The Rape of Europa
Ratatouille
Sicko
RUNNERS-UP:
Sweeney Todd, the Demon Barber of Fleet Street, Atonement, Deep Water, Hairspray, Redacted, Michael Clayton, Control, Margot at the Wedding and Lust, Caution
THE WORST:
The Reaping, Romance and Cigarettes, Reign Over Me and 300

THE MOST OVERPRAISED:
American Gangster and Juno
You could guess that in the background of the admirable Ratatouille lie Emeryville's anxieties about Anaheim, so to speak. Pixar suddenly had the world's largest and most frightening rodent looking over their shoulders. Despite Mickey's pitiless gaze, Brad Bird's charming film did the two things American films do best: it entertained, and it sold the idea of democracy. And Remy the rat's elegant pantomime skills should get a generation of kids ready to rediscover silent comedy.
This year also brought us an onslaught of 'bromance" movies about the love between men—films as different as Superbad and 3:10 to Yuma. Surely Hot Fuzz was the most endearing. Meanwhile, Hot Fuzz director Edgar Wright's (with Simon Pegg) monument to the Amicus/Tiglon era of British horror, the Don't trailer from Grindhouse, transcended pastiche with a wonderful sequence of delirious images.
I'm Not There's analysis of Bob Dylan's many masks also avoided the usual slush of the musician biopic, as well as the baby-boomer self-congratulation that made Across the Universe one of the year's big trials. David Lynch's Inland Empire deserves comparison with German Expressionist film as well as praise for its capacity to twist nerves without manipulation. As much as Julie Christie distinguished herself in Away From Her, Laura Dern's performance was the best by an actress in 2007.
I will write more about Persepolis coming up when it opens locally in January, but the film is a multilevel triumph: an animated history lesson on the Middle East, a huge visual improvement over Marjane Satrapi's seriously limited skills as an artist in her graphic novel—and a cautionary tale of life in any theocracy. Michael Moore did his country a service in Sicko; he took the issue of our teetering health system and made it unignorable in the next election.
Many fine documentaries and many weak, sometimes driveling dramas about Iraq came out in 2007. No End in Sight, Charles Ferguson's study of the bungled invasion and occupation was the best of the former. One of the best of the latter, In the Valley of Elah, was more about the decadent boredom of a garrison town, anyway. Thus it had more in common with From Here to Eternity than with Redacted.
Indirectly reflecting the Iraq war's endlessness were a number of films that just couldn't plain come up with an ending: Atonement especially and the numb futility of the finale of No Country for Old Men. The film's clublike force has to be respected dispassionately, just as one respects a piece like Cape Fear. But the fantasy of a pitiless pain-free Latino gangster is fit for Tom Tancredo.
You could count the blacking-out ending of The Sopranos as the same kind of audiencus interruptus proffered by No Country for Old Men. I thought the tactic worked better on TV, since we had already well established that the angel of death was always firmly perched on Tony's shoulder. (AMC's Mad Men was ultimately more worth talking about anyway. How about some applause for a TV show that insists that the role of women is the most important difference between 1960 and 2007? And that everything else is just jargon, trends and electronic toys?)
For those who can handle tragedy, the Romanian feature 4 Months, 3 Weeks and 2 Days was the best film I saw all year, tied only with the rerelease of Charles Burnett's 1977 Killer of Sheep, now available on DVD from Milestone.
The story focuses on the circumstances of an illegal abortion in 1987, during the last days of Ceausescu's dictatorship in Romania. It's not the novelty of the tale that makes the film great. In breath-stopping long takes, director Cristian Mungiu masters drastic shifts of mood. The alterations include everything from a woman silently chafing under stress at a party to a horror/noir sequence at a housing project that makes Gaspar Noé and Eli Roth look like puppies.
This film will be celebrated more than watched. There were will be backlash based on misinterpretations. Some will denounce it (or celebrate it) as a movie version of the pro-life room in a Baptist church's Halloween Hell House. But as the divided reaction over Vera Drake demonstrated, the war on choice, like the war on Iraq, seems to be endless.
This domestic conflict seems to me to have been the most salient point of cinema in 2007. According to Ian Fleming's Auric Goldfinger, there was a saying in Chicago: "Once is happenstance; twice is coincidence; the third time, it's enemy action."
We had three prime (or maybe subprime) examples in 2007. Bella, the People's Choice hit at the Toronto Film Festival, was propaganda to promote the idea of adoption. And then there was the hit comedy Knocked Up, which gifted the lexicon with the word "Sha-smortion."
It is part of the quirky wit of Juno (opening Dec. 21) that a girl decides whimsically not to get an abortion because the counter help was blasé, the clinic smells like a dental office (smelled a maternity hospital lately?) and the fetus has fingernails. Juno is just the alt-rock version of the faux-Southern whimsy of Waitress. Anyone for a slice of "So Go Get an Abortion Already Pie"? All three films depended on a deliberate blindness to the real facts of life: the cost of having a kid in America. In these comedies, rich patrons pop up. In Knocked Up, an apparently unemployable loafer suddenly pulls a lucrative job out of his hat—or somewhere.
Political columnist Katha Pollitt of The Nation, writing about the liberal press's caving in to Mike Huckabee's Andy Griffith charm despite the Arkansan's longings for a constitutional ban on abortion, asked in despair, "Does the issue of abortion—which is a marker for a whole range of women's issues—just not matter to men?" Maybe not. Or maybe as Goldfinger was suggesting, it's enemy action. Somewhere along the line, studio bosses read some survey saying that today's young person despises abortion, and they floated around the idea that they wanted these kind of stories made.
One happy anecdote: Sarah Silverman's audacious "abortion montage," available on YouTube. But then again, there's only one Sarah Silverman. When was the last time you saw a film in which the heroine (and her significant) went through an abortion, weathered it, used the experience for comedy or drama and were—most of all—glad they had the freedom to choose? Maybe there will be something like that in 2008.
Send a letter to the editor about this story.