12.19.07
home | metro silicon valley index | music & nightlife | band review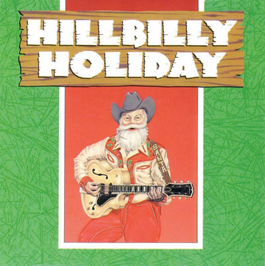 DRINKIN' UP CHRISTMAS: Hits like 'Daddy's Drinking Up Our Christmas' make 'Hillbilly Holiday' the holiday soundtrack with a kick.
The War on Christmas Music
Hits like 'Daddy's Drinking Up Our Christmas' make 'Hillbilly Holiday' the holiday soundtrack with a kick.
By Paul Davis
IN a 2004 essay for Esquire, pop culture pundit Chuck Klosterman performs the necessary service of putting the concept of the guilty pleasure to rest. It's been a long time coming; implicit in the term is an ironic disdain that is snide and disingenuous. There's no need to mockingly begrudge the charms of Hall & Oates' "One on One" or Billy Joel's "Always a Woman to Me" unless you simply hate great pop music—it's far worse to affect a postured reserve to save face than to proudly embrace the songs you turn up when they come on the radio.
I agree with Klosterman's argument, but there is one exception in which the guilty pleasure tag remains relevant: Christmas music. Everyone claims to hate it except your mother, and if you haven't already had your fill, then you might want to put down the rolling papers and step outside of your subterranean dungeon, bro. Still, even though it seems everyone has tired of the incessant caroling before the first fall of snow hits the Sierras, there remains a demand. That's the argument of Darren Davis of radio conglomerate Clear Channel, whose station WLIT set another record in the Christmas race to the bottom by beginning Christmas programming the day after Halloween. In an interview with the Chicago Tribune, Davis said, "Everyone thinks it's a good idea to be the alternative for all those people who don't like Christmas music, but I see the ratings every year that show those people don't exist."
So somebody's listening. And chances are, that might be me or you or the hipster in the tight jeans who's dreaming of a shiny new fixed gear bicycle. But those of us who retreat into darkened rooms late at night to turn on the Christmas station or give "Jingle Cats" another spin could be treating ourselves much better. Here are some bona fide Christmas classics and surprising discoveries that you don't have to feel guilty about.
'A Charlie Brown Christmas' and 'Ella Fitzgerald's Christmas'
These are the standard-bearers—and likely a bit overplayed. But unlike 90 percent of the Christmas radio chestnuts, which seem so inevitable they may as well be part of your genetic code, the tracks on these holiday classics have an ethereal, eternal quality that conjures up nostalgic memories of holidays past and mirages of slowly falling snow.
'The New Possibility'— Jhn Fahey's Christmas Album Volumes 1 And 2
Leave it to virtuosic folk guitarist and far-thinker John Fahey—who could take a Kenny G composition and turn it into something revelatory—to take the hoariest of Christmas standards and render them transcendent and somehow new. The 20 tracks on this holiday collection are not only among the finest the holidays have to offer, but are worth a listen regardless of the season.
'Hillbilly Holiday'/
If you're the sort of sad bastard making plans to ring in the holidays at the Caravan, this is the collection for you. No Toby Keith or LeAnn Rimes here—just Christmas songs of cheer and sorrow with the finest to grace the Country Music Hall of Fame, including Bill Monroe, Willie Nelson and the Louvin Brothers. And while there's plenty of celebration to be had here, cynics and singles alike will feel the holiday spirits with tears-in-your-eggnog tracks such as Ernest Tubb's "I'll Be Walking the Floor This Christmas" and Commander Cody's "Daddy's Drinking Up Our Christmas."
'A Christmas Gift for You From Phil Spector'/
It's a bit uncomfortable in this day and age to offer the stamp of approval for anything associated with Phil Spector—perhaps akin to acknowledging that OJ was entertaining in the Naked Gun movies. But this album, produced by Spector in his '60s Wall of Sound heyday, is not only a Christmas classic but an incredible slab of soul in its own right. Featuring tracks by the Ronettes, the Crystals, and Darlene Love, this classic is the source of a shocking number of Christmas station standards.
WOXY Radio's 'Holiday Mixer'/
Cincinnati, OH's trendsetting independent radio station WOXY is spreading the holiday cheer online with the Holiday Mixer, a streaming Internet station that mixes Christmas classics by the likes of Nat King Cole and Elvis Presley with überhip holiday renditions by the likes of the Polyphonic Spree, the Arcade Fire and Yo La Tengo. It's an eclectic mix of the sublime (Low's "Little Drummer Boy" is stunning) and the surreal (selections from John Waters' Christmas album.) Listen online at http://woxy.lala.com/holiday.php.
Send a letter to the editor about this story.