12.19.07
home | metro silicon valley index | the arts | stage | review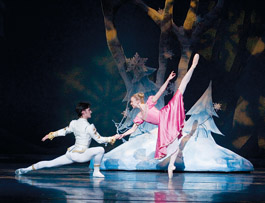 Photograph by Robert Shomler
SNOWSTORMING: Peter Hershey and Catharine Grow dance through a winter wonderland in Ballet San Jose's 'Nutcracker.'
Crisp Nuts
Ballet San Jose's 'Nutcracker' crackles with bright movements and grace notes
By Marianne Messina
YOUTUBE is crawling with Nutcrackers. You can stay home and watch lethargic (music be damned!) European productions and small American productions with imprecise snowflakes tumbling into each other; you'll find extra-meddlesome Drosselmeyers and super-chatty Claras. But Dennis Nahat's choreography will reward anyone who abandons all that for a live performance of Ballet San Jose's Nutcracker. Crisp, bright movements meet every grace note of the music with a flourish. Nahat's grand pas de deux taxes the featured couple, complements the musical swells with bold lifts and serves fish dives—those vertiginous nose-down poses—in lengthy portions.
Plus I am happy to report that this year the orchestra enhances Nahat's clear storytelling with a clean, dynamically sensitive rendering of Tchaikovsky's kaleidoscopic textures. The double reeds have always provided sensuality for "The Land of the Shifting Sands" and gentle majesty to set the mood for Queen Tatiana's robust fouettés (Mirai Noda on one-legged twirls at this performance). Now, the horns also present a tight fanfare regal enough for the royal couple (in gold- and diamond-dotted white). The strings unify for precise "Ivory Pagoda" pizzicato and artful articulation of conductor Dwight Oltman's hushes and climaxes, as if recounting an impassioned tale.
For the Ballet San Jose Nutcracker, magical Godfather Drosselmeyer (Raymond Rodriguez gives him film-star charm) sets the wooden soldier/Nutcracker by young Maria (named Clara in some traditional productions) while she sleeps in a big armchair. At the stroke of midnight on Nahat's kooky clock, the mice come out, and Maria dreams of war between an evil Mouse King and the Mouse-cursed Nutcracker. Maria saves the Nutcracker with a scimitar blow, and the grateful, reconstituted Prince Alexis (Peter Hershey) ushers her through many lands (not the candies of the ballet's bowdlerized version) on the way to his Muscovy kingdom (to meet the folks). Tchaikovsky's brisk musical parade through the nations leads many productions to leave the set constant. But Nahat's sets (designed by David Guthrie) present perpetually shattered worlds of descending towers, receding walls and tall ballroom colonnades falling up. Something about the earthshaking movement of these monstrous set pieces seems to echo, "Life is but a dream."
Mirai Noda and Le Mai Linh make a sweet, compact pair as Tsarina Tatiana and Tsar Nikolai. Their punctilious finishes—each lift is crowned with a smile, each harp stroke commands a pert gesture—suggest a couple enjoying the formalities of their station. Catharine Grow's Maria has the grace of a young lady newly attracted to good form. Her Maria has clearly moved out of childhood, a seeming equal to Peter Hershey's dashing prince. Interpretations of the "Shifting Sands" harem girl, such as Bejart's girl threatened by swords and black-hooded men, can't substitute for Alexsandra Meijer's pure beauty of movement—daring, flexible estures, a bare, snaking midriff and sinewy twists. Ballet San Jose's production moves fluidly from explosions (with audience exclamations) to the surreal, airy drift of the swan carriage through the fog. In it, Grow and Hershey wave underwater slowly, signaling the imagination to follow Maria and wake up to different worlds.
THE NUTCRACKER, a Ballet San Jose production, plays Wednesday–Thursday at 7:30pm, Friday at 1:30 (a one-hour children's show) and 7:30pm, Saturday at 1:30 and 7:30pm and Sunday at 1:30 and 6:30pm through Dec. 23 at the San Jose Center for the Performing Arts, 255 Almaden Blvd., San Jose. Tickets are $30–$82. (408.288.2800)
Send a letter to the editor about this story.