December 20-26, 2006
home | metro silicon valley index | movies | current reviews | film review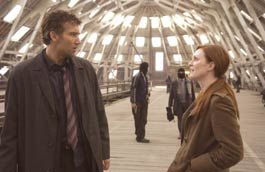 Photograph by Jaap Buitendijk
Kid-Free: Clive Owen and Julianne Moore fight infertility in 'Children of Men.'
Dystopia
Alfonso Cuarón conjures up a bleak future
By Richard von Busack
WHEN AUTHORS who work in another field try speculative or science fiction, they are usually ignorant about what's been going on in the genre. So Children of Men, based on mystery writer P.D. James' novel, doesn't have a breakthrough plot. For example, the characters, trapped in a fascist, nativist England of the future, are heading to "The Human Project" for safety. Just once, I'd love the escapees to arrive and discover that the utopians are selling time-shares. With that disclaimer made, in Children of Men, the astonishing director Alfonso Cuarón has created a menacing future-shock thriller. And his scenes of a sinking England are too plausible for the good of your nerves.
The action begins in 2027, on the day that the youngest person on Earth has died. He was killed outside a club by a disappointed autograph seeker. The public mourns for the grown-up "Baby Diego," just as they wept over Princess Di. The obituaries vie for headline space with another terrorist bombing; either way, the morose and hard-drinking Theo (Clive Owen) sheds no tears. "Baby Diego was a wanker," he confides, even as the plastic-wrapped bundles of flowers are stacking up at Diego's impromptu shrines all over the city. The human race is completely infertile. It's a matter Cuarón smartly refuses to illuminate. Mad-scientist speeches are always a kick, but who has patience for the ones made by sane scientists? The point is that there are no more children, and the world has eaten itself alive. England is an utter ghetto; gangs of loafers throw rocks at the trains (we can see graffiti: "Last person to die please turn off the lights"). Half-burnt carcasses lie in the fields, and billboards on the double-decker busses advertise the suicide pill "Quietus."
As he's out walking, Theo is kidnapped by revolutionaries. His gone-underground ex-wife, Julian (Julianne Moore, with a husky voice and a piercing in her snub nose), runs the cell. Julian believes that Theo's long-dormant activism can be roused by their discovery: Kee (Claire-Hope Ashitey), the last pregnant woman on earth. Kee is also an illegal alien who must be concealed from the government.
Children of Men is not quite depressing. One watches with grim satisfaction, seeing a world gone just as bad as we might have expected. For certain elements, like the slight but insistent parallels to the nativity story, Cuarón will be accused of sentiment. If this is a messiah story, it's one in which the new Holy Mother listens to an iPod. Cuarón lightens the doomsday scenario with bitter comedy, thanks to Theo's hippie comrade Jasper Palmer (Michael Caine). Danny Huston has a few evil-comic minutes as the world's last art curator, walled up in a loft at the New Tate Gallery, with the crippled ruins of Michelangelo's David propped up over him. The film prowls muddy revolutionary camps, where the guerrillas get caught in the usual self-wounding arguments. It comes to an insurrection at a refugee camp. In the latter, Cuarón sources Pontecorvo's The Battle of Algiers. The tumult is directed with originality and brutal intelligence. Cuarón makes the future real in ways that, say, Terry Gilliam was too sardonic and romantic to achieve in Brazil. And the film's last shot is as serene a composition as anything in classic art.

Children of Men (R; 109 min.), directed by Alfonso Cuarón, written by Cuarón, et al., based on the book by P.D. James, photographed by Emmanuel Lubezki and starring Clive Owen and Julianne Moore, opens Dec. 25.
Send a letter to the editor about this story.