December 20-26, 2006
home | metro silicon valley index | columns | live feed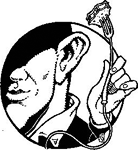 Live Feed
Thai Gone By
By Stett Holbrook
THERE WAS A TIME when Thai food was just about the most exciting food I could eat. Back in the mid-1980s when Thai restaurants first began to appear in California in large numbers, I couldn't get enough of the stuff. The flavors of kaffir lime leaves, lemon grass and galangal root were like eating food from another planet, a planet with exotic, electrically charged food. The fiery curries, creamy yet tangy coconut milk-based soups and brightly flavored salads were culinary thrills I sought out again and again.
But like a love affair gone cold, the thrills wore off and in time I found myself eating Thai food less and less. Green curry chicken and pad thai noodles didn't do it for me anymore.
I moved on and developed new food crushes. On the rare occasions when I found myself in a Thai restaurant the menu always looked the same. Thai food had become boring.
The careful reader of Metro restaurant reviews will note that I've never written a review of a Thai restaurant in the 2 1/2 years I've been here. It's not that there aren't any good Thai restaurants here. I just haven't found any that really excite me. I know there are Silicon Valley Thai restaurants that have devout followings. I recently received more than a dozen emails from customers loyal to San Jose's Thai Bistro lamenting its closure due to the sale of the shopping center it occupied.
But for me, Thai restaurants in Silicon Valley are like going back in time 20 years. Nothing has changed. I'm not saying Thai restaurants should invent new dishes and break new ground. Nor should they do away with the dishes that continue to make them so popular. But I know Thai food has more to offer than the same old curries and noodles. Where are the regional dishes? Where are the seasonal specialties? As a geographically diverse country that borders Burma to the north and Malaysia to the south and is bound by two seas, there has to be more to Thai food than what's represented on the menus of South Bay Thai restaurants.
So I'm appealing to you, Metro readers. Where are the Silicon Valley Thai restaurants that go beyond tom yum, pad prik king and larb salad? Where are the Thai restaurants that will give me the thrill of discovery I experienced so long ago?
Let me know about Silicon Valley's out-of-the-ordinary Thai restaurants and I promise to check them out and report back on what I find and spread the word.
Send a letter to the editor about this story.