December 21-27, 2005
home | metro silicon valley index | movies | current reviews | film review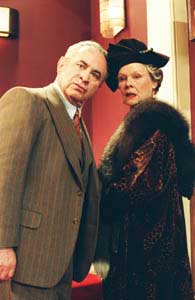 Photograph courtesy the Weinstein Company
Patriotic Fun: Bob Hoskins and Judi Dench do their duty for the brave boys on the way to the front.
Nude Brood
Judi Dench and Bob Hoskins star in 'Mrs. Henderson Presents,' a story of how toplessness won the war
By Richard von Busack
NAUGHTINESS is almost extinct, and that might almost make Mrs. Henderson Presents worth going to see—it is a movie that you can take your grandmother to so that she can gawk some boobs. Like a wispier version of The Full Monty, Stephen Frears' newest charters the creation of the Windmill Theater, a London "revuedeville" burlesque house. It arose during the interwar years, persisted during the blitz and survived into 1964. Comedians such as Benny Hill and Peter Sellers got their start there, as between-the-acts entertainment.
Judi Dench plays the proprietress, Mrs. Henderson, as filthy rich a widow as ever ported around a dyspeptic dachshund. She started the theater as a lark; her social connections with "Tommy" (as she called the Lord Chamberlain, the official censor) enabled her to get away with nudity, as long as the models were posed as tableaux vivants.
The thrill of seeing women so posed is maybe more elusive than the appeal of geishas. The models are stark white under the lights and the makeup, motionless and as fully unwankworthy as the bas-relief figures on a Wedgwood dish. It all must have created a new generation of necros. (The still photo I saw of the real Windmill girls looked slightly more lewd and twinkling.)
However, the "but seriously folks" aspect of the film kicks in when Hitler begins his assault. As the theater shivers from bombardment, so are we inclined to shiver when Judi Dench speaks up for the noble, patriotic tendencies of the skin show. If a boy on his way to die for his country can't be allowed to see some boobs, than who can? Dench made me snivel during this speech, and I mention it not just to prove what a great thespian she is, but what a sap I am for the unbeatable combo of tits and patriotism. At least I'm not alone.
A cruel person could describe Mrs. Henderson Presents as bunk—the self-justifying arguments of a pornographer spiffed with a little flag-waving. Having said that, the antiqueness of the film is not without charm. It's a hazardous road, that historical path: I mean the one that begins with the slobby Benny Hill chasing a half-dressed girl, and the slobby Ron Jeremy actually catching her. You can understand why someone would want to look backwards down the way we came, rather than where we're headed. In addition, most of the 1930s musical numbers here have a fruity facetiousness that can't be perfectly recreated on American stages. (It's a lost art, not that it should be looked for.)
Bob Hoskins is dashing as a theatrical man rejoicing in the name of Vivian Van Damm, with silver wings of hair slicked back against his temples, and clad in a three-piece burnt-orange suit with opera cape. Where Felicia's Journey suggested Hoskins could play Alfred Hitchcock, it's now clear he could play Michael Powell too. And, when he doffs his own kit, his body doesn't seem half-bad for a man his age. Dench eschews nudity, which is the point: she's in charge of the spectacle, even critiquing the two-fried-eggs like poitrine of one of the dancers. Dench has what they call elsewhere "the male gaze." She represents the elderly well-bred lady who will be the natural spectator for something like this.

Mrs. Henderson Presents (R; 103 min.), directed by Stephen Frears, written by Martin Sherman, photographed by Andrew Dunn and starring Judi Dench and Bob Hoskins, opens Sunday (Dec. 25) at selected theaters.
Send a letter to the editor about this story.