12.24.08
home | metro silicon valley index | columns | silicon alleys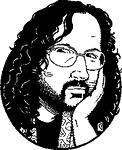 Silicon Alleys
Scene Again
By Gary Singh
SINCE EVERYTHING that goes around comes around, a tidal wave of reunions are currently washing up on the littered shores of San Jose's alternative music scene. Last month, a spirited reunion for the old F/X club from South First Street convened at the only logical venue, the Blank Club, drawing folks from such way-out-yonder places as New York and Los Angeles. F/X operated from 1989–1995 in the former Pussycat Theatre at the southeast corner of First and San Fernando, and helped launch a way-too-short-lived local counterculture scene that gave the SoFA District its moniker. As a venue, F/X catered to a wild variety of drinking and dancing types, no matter what part of the antisocial spectrum they were from. For the reunion, staff and regulars from those days all convened on Nov. 28 for a DJ-fueled soiree with heavy boozing, boogieing and collective recollection. It was like a high school reunion, except everyone wanted to see each other. Blackmail footage from that night is still emerging on Facebook.
The Blank Club was the most plausible location for such a reunion, it being the local safe house for any band from those days that wants to reform—primarily because the club is owned and operated by original scenesters from that same era and everybody still pretty much keeps in touch with each other. For example, reunited local indie rock heroes from 20 years ago, The Frontier Wives, will storm the joint this Saturday. (See story on page 69.)
The Wives may or may not be part of another iniquitous reunion hitting the Blank Club during the last weekend of January, when seven bands over two days will dredge up fuzzy memories of hard-drinking rock & roll debauchery from Marsugi's, the local dive bar that sat kitty-corner from F/X until February of 1993. Marsugi's was the stuff of legend. Originally just a restaurant, it eventually morphed into the first live music bar on South First to emerge from what was then essentially a porno district. Countless now-famous bands gigged there back when they were nobodies: Nirvana, Primus, Green Day, Faith No More, Gwar and several others. Situated where the Agenda Restaurant is now, Marsugi's was so small, the bands had to play on a makeshift stage in the front window of the place. If you weren't 21 yet, you could always watch from outside on the sidewalk, as many did. It was the quintessential neighborhood dive that just wanted to rock. The sound was decidedly awful, the drinks were bargain basement cheap, the employees were often blitzed, and on the whole, Marsugi's hosted some of the most cherished club gigs in San Jose history. It's said that if you dine at Agenda and sit at the corner table by the window, that's pretty much right where Kurt Cobain of Nirvana played guitar while standing on his head in 1989. He will not be attending the reunion, unfortunately. Other notorious troublemakers who gigged at Marsugi's and have long since departed this life include Buck Naked of the Bare Bottom Boys, John Dougherty of Flipper and El Duce of the Mentors. The bar will live in infamy, I reckon.
Not exactly a reunion per se, but another related machination is in the works and this one involves the Cactus Club, which was one of the other music venues on that corner during those days. After what seems like forever, Lon Lopez, Aaron Carne and Chris Garcia have finally completed a version of their documentary on the venue, tentatively titled, Rock the Block: The Story of the Cactus Club. According to Lopez, "It's almost like a 'Cactus Club, Behind the Music' episode, but without the VH1 money." Lopez also tells me they have submitted the film to Cinequest and are crossing their fingers in anticipation. It just doesn't get any more local than that.
And the gatherings keep on coming. In addition to the above venues, reunion groups now exist on Facebook for both the Oasis and One Step Beyond, each of which were also thriving S.J. music clubs 20 years ago. It just doesn't get any more local than that.
Contact Gary Singh or send a letter to the editor about this story.