12.24.08
home | metro silicon valley index | the arts | visual arts | review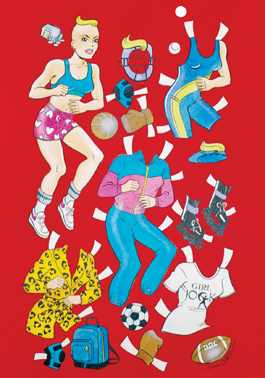 GIRL JOCKS: Trina Robbins uses paper dolls to comment on women and society in her works.
Paper Dolls
Trina Robbins gives a rich taste of her archives at CSMA's show of women comics artists
By Richard von Busack
WHEN THE daily newspaper goes down for good, it will take with it daily cartoon strips, some of them many decades old. The highly recommended Comics Curmudgeon website (Joshreads.com) laughs at the ineptness and oddness of and the painful attempts to grab street cred in some of the older "legacy" strips. One also gets a hint of the decline of the craft at "Women in Comics, Past and Present," now showing at the Mohr Gallery at the Community of School of Music and Arts in Mountain View.
Four artists—Trina Robbins, Lark Pien, Sabrina Jones and Kathy Aoki—are displayed. The Bay Area's Robbins needs little introduction. She is Earth's most scholarly historian of women in comics, and the exhibit includes several pieces by her. Robbins is an old-time feminist who, conversely, embraces the glamour-girl tradition in 1930s and 1940s newspaper and comic-book work. And she has a personal obsession with that centuries-old toy the paper doll.
Paper dolls are democratic and extremely cheap. While popularized by the fashion industry, they allowed even poor children to choose and design costumes. One of Robbins' most important breakthroughs as a cartoonist was figuring out how to subvert these paper clotheshorses for the women's liberation movement.
The first section of the exhibit spotlights a small part of Robbins' personal collection of early comics. The most charming works are drawings that were probably never published—at least to Robbins' knowledge.
Newspapers of the last century tried to serve every demographic. There was space for comics on the adventures of socialites and tales of party girls in high-fashion gowns. Some were dizzy dames comparable to Carole Lombard and Claudette Colbert. Others were 1920s flappers and playgirls. The subject matter was adult sometimes. An unsold strip circa 1930 by one Dalia Messick has a gentle gag about a girl's rump. Messick later changed her name to "Dale" to convince editors she was a man. She hit pay dirt and fame later on with her long-running Brenda Starr script, about an intrepid girl reporter.
During World War II, when the regular cartoonists were overseas, newspaper and comic book publishers hired female cartoonists for everything from adventure stories to romance tales. Two delightful Pat and Judy strips by Dorothy Hughes, one inked and one penciled, show the heartbreakingly hard work that went into even a forgotten newspaper strip of the time.
As she matured as a cartoonist and an editor in the 1970s, Robbins was a key player in the field of getting women artists published. The work of Barb Rausch, Sharon Rudahl and Angela Bocage reinvented Wonder Woman or retrieved missing history. A 1990s-era paper-doll cover for Girl Jock magazine allowed the reader to dress and accessorize a shaven-headed female athlete.
Robbins notes that women artists of the 1970s were often more engaged in politics then their male counterparts. There are plenty of exceptions that prove that rule, but it's true that women were pioneers of self-expression in comic form. The more contemporary work here has spirit. Kathy Aoki's linoleum-print parodies of superheroes, made as public-service messages for San Francisco's Market Street, try to encourage good manners on that vicious corridor.
Lark Pien's genial funny-animal characters lead into a DVD recording of the artist's performance piece at the San Francisco Cartoon Art Museum. There, Pien painted and then painted over four canvases: speeded up, it's an animated movie in which Pien stars, her paintbrush whirring.
The pioneers did their work so well that it is no longer a matter of comment that a woman is a cartoonist. No one sees something as nail-tough as Alison Bechdel's Fun House and dismisses it as "girly." And anyone with HTML skills can get published today. But the astonishing craft that went into the art of cartooning 60 to 70 years ago is what strikes one the most in this show. And Robbins' retrieval of these paper artifacts is an outstanding achievement.
WOMEN IN COMICS runs through Jan. 25 at Mohr Gallery, Community School of Music and Arts, 230 San Antonio Circle, Mountain View. (650.917.6800, ext. 306)
Send a letter to the editor about this story.