12.24.08
home | metro silicon valley index | silicon valley restaurants | review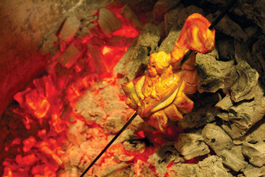 Photograph by Felipe Buitrago
BEHIND THE TANDOOR: Barbecue chicken in the oven at Shan
Northern Star
Shan showcases north Indian and Pakistani cuisine
By Stett Holbrook
PAKISTANI food is not as well represented in Silicon Valley as Indian food, but the few restaurants we've got that specialize in the hearty, meaty and saucy food of Pakistan are quite good, so you need not feel deprived. Two of the best are Shalimar in Sunnyvale and Zafran in Santa Clara. I'd enthusiastically add Shan to the list, too.
Shan has four locations in Silicon Valley (one in Sunnyvale, two in Santa Clara and Newark), so you're never too far away from some great, cheap food. For this review, I visited the Santa Clara location on Stevens Creek Boulevard, a long, boxy restaurant that's short on atmosphere but long on flavor and value.
Shan serves a mix of northern Indian and Pakistani food. Unlike India, most of which is Hindu, Pakistan is Muslim, and that means that meat—chicken, beef, lamb, and goat—plays a starring role. The food of Pakistan and much of northern India reveals the influence of the Mogul Empire, an Islamic reign that began on the Indian subcontinent in the 16th century. The Mogul emperors brought with them their Persian, Turkish and Afghan cooks, who in turn introduced such classic dishes as korma (braised stews in rich curry), kofta (meatballs in a creamy sauce), kebabs and biryanis (aromatic rice dishes).
The kebabs are particularly good at Shan. It's just a stick of grilled meat, but what a stick of grilled meat it is. Seekh kebabs are the equivalent of the hamburger for northern India and Pakistan. Made from boldly seasoned and marinated ground beef that's threaded onto flat skewers and grilled, they're cheap and eaten everywhere for a quick bite. At Shan, the kebabs ($2.50) are grilled over mesquite charcoal. They're intensely flavorful, and so moist they almost squirt meaty juice. They conceal a sneaky spiciness that reveals itself after a few bites.
The seekh chicken kebab ($2.50) is even better. Chicken is so often a boring ingredient, but the piquant, highly seasoned meat is ground and beautifully caramelized over the charcoal grill. It's delicious and there's nothing shy about the spiciness of this one. It's hot.
Shan also serves some great tandoori dishes. Go right for the tandoori chicken leg ($3.99), a tangy and moist spice- and yogurt-marinated joint of meat. A squirt from the tableside bottle of mint-yogurt sauce is all you need with it.
Nihari ($7.99) is a classic Pakistani beef curry, and it's one of my favorite dishes at Shan. The silken, slowly braised meat is cooked in a rich, red spicy curry. It's the Pakistani equivalent of beef stew. The matchstick-size slices of ginger root and fresh cilantro on top add a high finishing note. It's a bit oily, but that didn't detract from the dish for me. Achaar gosht ($7.49), lamb braised with spicy, pickled vegetables in a thick, warming sauce, is another hearty winner.
I could eat the chicken kofta ($6.99) all day long. The marinated balls of ground, spiced chicken are bathed in a buttery, cardamom-inflected gravy that had me mopping the plate with naan to make sure I got every last bit.
As good as the meat dishes are at Shan, there are several vegetarian standouts like the wonderfully rich and spicy banggen bharta ($5.49), a silken blend of eggplant, bell peppers and onions. Chana masala ($5.49), garbanzos beans in a thin but spicy red curry, also hits all the right notes.
The one disappointment at Shan is the naan. While it's made fresh, on both of my visits it came to the table after apparently waiting too long in the kitchen. It was still warm, but lacked that soft and supple just-out-of-the-oven quality.
Service is indifferent, but efficient. You order at the cash register and wait for someone to bring your food. With food as good and low-priced as this, no one seems to care whether the guy delivering your food has a smile or not. The food creates its own happiness.
---
Shan Restaurant
Address: 5251 Stevens Creek Blvd., Santa Clara.
Phone: 408.260.9200.
Hours: Daily 11:30am–3pm and 5:30–10pm.
Cuisine: Northern Indian and Pakistani.
Price Range: Entrees $5.49–$9.
Web: shanrestaurant.com
Send a letter to the editor about this story.