12.24.08
home | metro silicon valley index | movies | current reviews | film review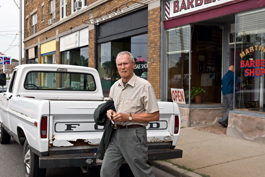 Photograph by Anthony Michael Rivetti
TOO LATE FOR A GOVERNMENT LOAN: Clint Eastwood plays a disaffected retired auto worker in 'Gran Torino.'
Grumpy Old Man
'Gran Torino' is a vehicle for Clint Eastwood's essential character
By Richard von Busack
THE ANCIENT Persians made every important decision after considering the matter first sober, then drunk. If you consider Gran Torino drunk without looking at it soberly, it might appear to be a masterpiece. That's what they're calling it in some quarters. It was written in a Minneapolis bar called Grumpy's, according to interviews with scriptwriter Nick Shenck. If there was an All in the Family marathon under way on the bar's TV, with Archie Bunker sassing out the coloreds and the spics, all the elements for the film's creation were in place. Shot in a month in some sketchy, prairie-ized Detroit locations, Gran Torino has a visual authenticity that make up for the absolute basic nature of its plot. Korean War vet and auto-plant worker Walt Kowalski (Clint Eastwood) has just been widowed. He refuses the solace of the Catholic church since his new priest is barely 20. The old man's family is a thorough disappointment: a boring son who doesn't work with his hands and (shudder) drives a Toyota. And he has sired grandchildren who are grabby, lazy or dressed like sluts.
While holding off his family's plan to ship him off to the old folk's home, Kowalski is coping with the new faces in the neighborhood. The way he copes is by spitting when he sees them, and calling them swamp rats. Even though they're "good" Asians (Hmongs who fought on the U.S. side during the American war in Vietnam), Kowalski will have nothing to do with them. When a fatherless kid, Thao (Bee Vang), from next door is pressured into stealing Kowalski's cherished muscle car, the elderly blue-collar worker puts the boy to work cleaning gutters and painting a house. This good solid labor attracts the fury of a local gang of Lao thugs. Of course, the tottering Kowalski knows how to handle loads like these, in the way Eastwood has been handling them before most of us were born.
At 78, Eastwood is every inch the cowboy figure who never has any trouble staying on the right side of the line between justice and vigilantism. The movie isn't as gloomy and overreached as Million Dollar Baby. Perhaps it stands out from the holiday fare just by being so relentlessly simple and straightforward. The actor is comic here. He's aware of the humor of gramps with a gun, grrring as he surveys the next generation or sopping up a cooler full of Pabst Blue Ribbon. We can buy the tale, even if Kowalksi is about as authentic an embodiment of working-class America as Joe the Plumber. (Wiseasses who saw the previews for Gran Torino kept claiming that John McCain's election slogan was "Get off my lawn!")
One has to overlook the shaky acting by the juvenile leads, who can barely speak some of their convoluted dialogue, the poorly heard gangster slang, and the way the Hmong treat Kowalski like a white god after he runs off some thugs with his Korean war rifle. Eastwood's character, with a century's worth of racial slurs on his lips, embodies the old-timers that one now realizes can never be reformed, and so we might as well laugh them off. Gran Torino insists that such oldsters mean nothing by slander. It's just their way of saying, "Welcome to the neighborhood." If you can buy the idea that hate speech is just a sarcastic way of saying, "Howdy," you'll buy Gran Torino drunk or sober. But you'd be better off drunk.

GRAN TORINO (R; 116 min.), directed by Clint Eastwood, written by Nick Schenk and Dave Johannson, photographed by Tom Stern and starring Clint Eastwood, opens Dec. 25.
Click Here to Talk About Movies at Metro's New Blog
Send a letter to the editor about this story.