12.24.08
home | metro silicon valley index | movies | current reviews | film review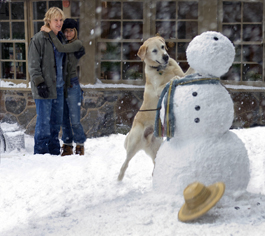 Photograph by Barry Wetcher
TAKE THAT, FROSTY: Owen Wilson and Jennifer Aniston sic Marley on a snowman.
Hangdog
Owen Wilson learns some life lessons from a seriously cute puppy in 'Marley & Me'
By Richard von Busack
NOW that Bottle Rockets has been released on Criterion, can Owen Wilson get some respect? His clueless affability—as close to a male dumb blond as we get in 2008—gets misused by directors. The sad truth in life is that nice guys get pushed around. In his better movies, Wilson evinces the melancholy of a man surrendering to forces beyond his control. Certainly Wilson's off-screen behavior suggests that there is some melancholy there.
Marley & Me is one of Wilson's best. It's based on former Miami Herald reporter and columnist John Grogan's memoir of the yellow Labrador in his life. (Grogan's colleague Carl Hiassen would have seemed to have memorialized the same infernal dog in his novel Sick Puppy.)
The funny thing is that 20th Century-Fox can sell this film as a comedy about an oafish mutt like Marmaduke (a.k.a. "Herr Hitler's Giant Canine"). It is just that, but the PG rating needs to be noted. As played by a kennel of slobbering misbehaving dogs, this composite Marley is beyond the limits of the word cute.
But the movie works because there is an understory of growing disappointment in middle-aged life; perhaps that's the results of scriptwriter Don Roos' contributions. A cover version of "Lithium" by Nirvana plays when Marley & Me shows us aerial footage of swimming pools and lawns; it's not a blithe endorsement of the suburbs.
In Kalamazoo, the daily-paper journalist, John (Wilson), marries a woman, Jenny (Jennifer Aniston), with an agenda: she wants to have kids. John tries to hold off the inevitable by buying her a puppy. His single-guy best pal gives him sage advice: "If you get a kid, you're a dad. If you get a dog, you're a master."
After they move to Miami, John chooses a "clearance puppy" he names after Bob Marley. The pooch is a four-legged wrecking crew, a major discipline problem that even an expert dog whisperer (Kathleen Turner in a one-scene part) can't handle. Marley devours upholstery, chews through drywall and howls whenever there's a thunderstorm—and the thunderstorms never stop in south Florida. After becoming a popular newspaper columnist, John finally gets jostled into becoming a parent. He turns 40 before he realizes what happened.
Wilson is the perfect calm straight man to a four-legged bundle of nerves. As Jenny, the one who really holds the leash in this story, Aniston is right in her ballpark. She's decorative, of course, and as a longtime TV star she knows just about how much bitchiness an audience can stand without rebelling. Even Alan Arkin handles a traditional role (the baleful newspaper editor) and makes it fresh; I think it's possible Arkin improvised some lines.
Eventually, John moves his family from Florida to Pennsylvania. He tries, futilely, to become a hard news reporter and to fight his destiny—a destiny to become Dagwood Bumstead. There's another reason for the change of scenery from an endless summer land to snow country, and readers of the book will be ready for it. Some of the rest of the pungency in this good all-around film must be the nostalgia factor. After a century of cross-promotion between journalism and cinema, this is bound to be the last major movie in which the contemporary hero is a daily-newspaper writer.

MARLEY & ME (PG; 115 min.), directed by David Frankel, written by Scott Frank and Don Roos, based on the book by John Grogan, photographed by Florian Ballhaus and starring Owen Wilson and Jennifer Aniston, opens Dec. 25.
Click Here to Talk About Movies at Metro's New Blog
Send a letter to the editor about this story.