12.24.08
home | metro silicon valley index | columns | style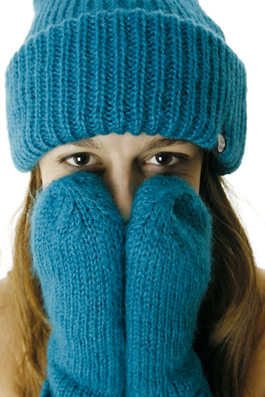 LOVING EVERY MINUTE OF KNIT: Hat and mittens from Cheap Monday
Style
Make Me Sweater
By Jessica Fromm
YOU KNOW that the holiday collections are upon us when Gap starts parading bouncy, D-level celebrities around in jarringly stripy sweaters and scarves in its annual Christmas ad campaigns.
Nothing says holiday cheer like winter accessories, and they tend to be the sort of unisex sure-fire gifts that you can unload on someone at any age. Why just feel warm and fuzzy when you can wear the warm and fuzzies?
While the only winter wonderland that you'll find in Silicon Valley is downtown at Christmas in the Park, it still gets rainy and cold as hell, so indulge in stylish knitwear, luxurious scarves, toasty gloves and snug sweaters to your heart's content.
The array of products to keep your hands toasty has expanded exponentially over the last few winter fashion seasons. Where you once only had two choices, gloves or mittens, you can now choose from arm warmers, fingerless gloves, convertible gloves, elbow length gloves, short gloves, buckled and bowed gloves, you name it. You can even find fur muffs out there nowadays, for women with a vintage penchant.
There has also been an upsurge in interesting neck-warming attire. While a good scarf has always been an essential part of staying heated on the chilliest days of winter, skinny scarfs, wraps, neck warmers and neck tubes are getting big. Neck tubes are basically one long stretchy tube of fabric that slips over your head and tucks into your jacket or sweater. They serve the basic same purpose as scarves, but are a little less bulky.
While many of 2008's trends have left women out in the cold, exposed to the elements in featherweight tees and high hems, this winter sees comfy, chunky cable knits out in full force in women's fashion. If you're getting sick of wearing tank tops under T-shirts under long-sleeve shirts with that layering trend, try a big, slouchy sweater that you can wear comfortably on its own.
On the other end of the spectrum, there are lots of delicate, sparkly, crocheted and otherwise exquisitely fashioned light sweaters, meant to be worn on top of that cute holiday party dress on more formal occasions, or under pea coats for everyday.
The sweater dress is also everywhere. While these dresses were served up skin tight and rather unflattering last winter, this holiday season they are being seen in much more versatile styles, from light weight, to heavy knit to knee length button-down cardigans. They look great paired with boots over leggings or tights, but stay away from loose jeans or long skirts, or you'll look like one giant baggy fabric blob.
For men, the grandpa sweater is still hanging around. Though they started off big with the bike-riding hipster set last winter, these sweaters have been revived in the clothing stores and are now seen around in some pretty crazy, Cosby-esque geometric prints.
For women, the only danger of wearing chunky cable knits is that the silhouette they create can be less then flattering. If done wrong, they can be downright frumpy. If you're going to wear an oversize, slouchy number, pare it with skinny jeans or a tight pencil skirt. By highlighting your slimmer lower half, you might just be able to hide some of those unflattering features that may have collected around your middle from all those delicious holiday treats.
Blissfully buttery Grande Cashmere scarves from TDM DESIGNS are handmade in Nepal. Six feet long, 14 inches wide and made from 100 percent scrumptious cashmere, they feature a wide basket weave with fringe at both ends. These scarves are insanely supple, so you can wear them while indoors to complete a look, or outdoors to keep warm.
From the Swedish label CHEAP MONDAY, the fine knit, incredibly soft men's inter cardigan has an all-over geometric print that screams both The Cosby Show and urban hipster. It has that classic "grandpa fit" that's so in right now, closing at the hips with a trio of matching buttons. It has rib knit cuffs, hem and a logo on back.
There's nothing better on a freezing morning then putting on an old school cozy beanie and mittens to shield yourself from the bitter cold. The matching hat and mittens set from Cheap Monday features a thick rib-knit that comes in bright blue, green and black. The Alice Hat has a festive pom-pom on top, and the Alva Mittens have a fleece lining and fold-over cuff.
The trendiest alternative to the ol' scarf and glove set: keep your neckline and hands warm with a neck tube and arm warmers from Cheap Monday. Made from a soft cotton wool blend, they are color blocked and totally tubular.
Double-layered graffiti gloves from JUICY COUTURE feature multiple cheeky phrases knitted onto a gray, pink and red background. They're made from wool, so you know that your fingers will stay warm, and they have the Juicy Couture logo embroidered onto the cuff.
Nuno is a unique fabric made by combining felt and open weave materials like silk in a complex process that results in stunningly, multitextured cloth. Cedide Olcay of ORAPA GALLERY in Willow Glenn hand makes nuno, and sews it into striking ponchos, vests, shirts, shawls, scarves and various other accessories, which she sells under her Cdd Silhouettes label.
Her one of kind pieces are edgy and avant-garde, perfect for women with an experimental fashion sense.
Send a letter to the editor about this story.