12.26.07
home | metro silicon valley index | columns | 5 things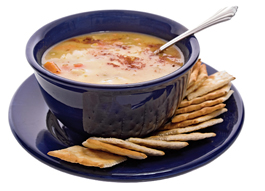 5 Things to Love
Places to Get Your Soup On
By Cheryl Sternman Rule
MAKING a pot of soup yourself is embarrassingly easy, but that doesn't mean you feel like chopping. Here are five spots offering slurpy sustenance in a bowl.
Gunther's Restaurant
1601 Meridian Ave, San Jose. 408.266.9022.
San Francisco Soup Company
1950 University Ave, East Palo Alto. 650.322.7687.
Sweet Peas Cafe and Catering
453 N. Santa Cruz Ave, Los Gatos. 408.354.3144.
Vung Tao Restaurant
535 E. Santa Clara St, San Jose. 408.288.9055.
Zanotto's Market
970 Naglee Ave, San Jose. 408.294.9151.
Send a letter to the editor about this story.