12.26.07
home | metro silicon valley index | silicon valley restaurants | review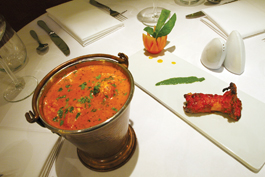 Photograph by Felipe Buitrago
MASALA APPEAL: A big bowl of chicken tikka masala and an accompanying trumpet mushroom at Rangoli.
Give It Up for the 95124
Rangoli India Restaurant brings exotic flair to an underserved part of town
By Cheryl Sternman Rule
SAN JOSE'S 95124 zip code—best known to most people as the Cambrian area— isn't known for its palate-tingling dining options. A few coffee shops, a Pasta Pomodoro outpost and an Armadillo Willy's was as upscale at is got when Rangoli's green and red sign appeared last year in a downscale strip mall. It piqued my interest about as much as the adjacent Beck's Shoes and liquor store. But eventually curiosity, and a deep-seated love for Indian food, got my rear in the door. Lesson learned (again): in true Silicon Valley fashion, you can't judge a restaurant by its unimpressive, nondescript exterior. Rangoli is beautiful, and its food and service largely match its décor.The restaurant's name refers to a popular Indian art form involving colorful patterns and designs. Deep hues predominate at Rangoli, with reds, purples, greens and yellows filling the modern space along with flowing Sanskrit letters along the walls. Private alcoves and fresh orchids lend a further air of sophistication. The stylish atmosphere—the result of an extensive, 15-month remodel—is a welcome surprise to those expecting a drab interior, and an even more welcome addition to a neighborhood largely devoid of classy eateries.
Open since July 2006, Rangoli has won a devoted following among Xilinx employees, whose office park sits only a few blocks away. In fact, manager and sommelier Sonu Singh says the Xilinx folks account for over 50 percent of his lunch business. As at many Indian restaurants, lunch here means buffet: $9.99 grants you access to Rangoli's vast array of cold salads, hot entrees (four vegetarian and four meat-based), warm naan, two types of rice, papadums and sweets. It's an impressive display, and the price is right. (Charging $4 a pop for a mango lassi feels like highway robbery, however.)
On a recent Monday visit, salads included, among other things, a palate-cleansing combination of red cabbage and cilantro, a lemony mix of diced tomatoes, onions and cucumbers with dried mango powder, and a creamy concoction of peas, carrots and sweet corn. Each was cold, very fresh, and the ideal counterpoint to the heavier food nestled in the chafing dishes. Highlights among the entrees included a terrific bhindi masala with stir-fried okra and onions, and moist, tender chicken korma and chicken tikka masala. The salty lamb curry didn't do it for me, but the stir-fried vegetable biryani with masala and curry and the addictive rounds of fried bitter melon did. Bowls of creamy kheer with floating pistachios and silky mango custard with bananas were set out for dessert.
One note about the buffet: I'm not pointing any fingers here (you Xilinx employees know who you are) but by 1:30pm the tablecloth at the buffet was so glopped up with splattered sauces and wayward splashes it looked like a Jackson Pollock.
The a la carte dinner menu offers a number of unusual, exciting-sounding options, including lobster samosas ($11) and a garlic lobster curry ($22). The two baseball-size samosas were perfectly crisp and devoid of grease, but the lobster flavor disappeared amid the strong spices and intense saltiness. And even with fat hunks of seafood the lobster curry didn't offer much in the way of sweet, succulent crustacean flavor. The texture was right, but for $22 I expected the dish to taste more like lobster.
Cardamom-lovers will adore the elachi jheenga ($11), a starter of milk-steamed tiger prawns in cardamom paste with tender slivers of bell pepper. The dish is rich and decadent, with cardamom's intoxicating aroma pushed to the fore and a thick, almost béchamellike sauce of onion and cream. The prawn ($16) and chicken ($13) biryanis also stood out, perfectly rendered and with generous portions to boot. Breads were hot and very fresh, and the smoky eggplant dish baingan bhartha ($13) was lovely.
Service is welcoming and extremely professional. Sonu Singh and his father, Paul, the owner, have succeeded in capitalizing on the elder Singh's vision of creating a swanky spot that showcases the cuisine of northern and coastal India with a number of artistic flourishes. Sonu is especially enthusiastic about his wine program, which highlights international bottles (all under $80 with a $40 average) and numerous wines by the glass. This month he offered 12 different screw-top wines by the glass, and he says he regularly carries approachable, food-friendly wines from India, Lebanon and Argentina. "It's challenging to pair wine with Indian food," he admits, "so we choose wines that are easygoing."
With its upscale décor, attentive service, and well-priced, high-quality food, Rangoli has quietly added culinary firepower to this well-trafficked, restaurant-challenged San Jose neighborhood. Take that, you other zip codes.