12.26.07
home | metro silicon valley index | music & nightlife | band review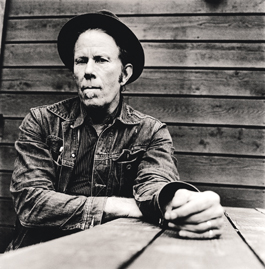 Photograph by Anton Corbijn
Down in the hole: Tom Waits sounded like the devil himself during his pre-Halloween Bridge School performance.
Looking Back
Big hits and little misses
in 2007
By Mike Connor
INSTEAD of concocting some naval-gazing Top 50 list of my personal favorite songs for belly button lint–picking in 2007, I've concocted a nostalgic Top umpteen list of the South Bay's musical happenings this year. Think of it as a written version of a sappy slide show complete with overdone Ken Burns effects. Please press play.
Huge Shows
These shows, for better or worse, are the ones that define the South Bay's musical offerings for outsiders and casual concertgoers. Strangely enough, the biggest show of the year (and one of the bestselling tours of all time) was the Miley Cyrus "Best of Both Worlds" tour, also known as Hannah Montana. Insane demand for tickets led many innocent parents straight into the belly of the secondary market beast. Their collective hissy-fit made headlines in The New York Times and even inspired commentary by the Fed about the future of the concert industry.
And where did Bay Area tweens go to get their fix of Hannah Montana live? That would be the HP Pavilion, which also hosted rock legends Eric Clapton and Rod Stewart within a week of one another. The Pavilion was also the place to see multitalented comedian Jamie Fox, who earned oodles of music credibility (and an Oscar) for his performance in Ray. That same week, Ricky Martin relived "La Vida Loca" at our expense. Why? Perhaps for the same reason that the husband and wife team Faith Hill and Tim McGraw brought their 10-gallon-hat tour to town, but it's too depressing to articulate.
On a sexier note, Beyoncé Knowles stopped at the Pavilion to deliver one of her notorious show-stopping performances. JOAN JETT proved she still loves rock & roll at the Civic and John Mayer fulfilled every white teenage girl's dream by existing. Oh, and by performing at the Pavilion with Maroon 5. But no single artist sold as many tickets in the South Bay as Justin Timberlake, who performed not once but twice at the HP Pavilion in 2007. Runner-up: Fall Out Boy, 2007's emo "it" band that performed one show at the Pavilion and one at the SJSU Event Center this year.
This year's Bridge School Benefit sported quality acts like Metallica, whose performance was surprisingly disappointing due to unfortunate cover song selections and uninteresting acoustic arrangements of their own material, and John Mayer, whose performance was surprisingly enjoyable, including a great three-man retelling of Tom Petty's classic, "Free Fallin'." But my whole reason for existing that night was the spooky and flamboyant performance given by Tom Waits surrounded by the illustrious Kronos Quartet. Waits stood in the center of them on a small elevated stage covered in dusty sand, which billowed and fluoresced in the stage lights like smoke as he howled and growled his way through "Down in the Hole." It was easily my favorite performance of the year. The saddest performance of the year came shortly thereafter, when Jerry Lee Lewis came on like Reanimated Roy Orbison. The man can still play him some piano, though.
Reunion Shows
The biggest reunion show of the year—The Police—skipped San Jose in favor of Oakland, but we did get some big name acts of our own. Sly Stone made a rare yet extremely abbreviated appearance at the Arena Green. Genesis, on the other hand, played for hours on end and delivered encore after fireworks-punctuated encore, earning bonus points for the large picture frame–shaped video screens that gave the stage a distinctive Hogwarts vibe. Van Halen (complete with David 'Diamond Dave' Lee Roth) also lit up the Pavilion with a great set, proving that the tamer antics of aging bands also means that the music is better. We also got funny little visits from the '80s throwbacks: the hair band Winger played at the Avalon and ex–New Kid on the Block Jordan Knight snuck into the Civic. Both Exodus and Naked Raygun stopped by the Blank Club, and Good Riddance called it quits in Santa Cruz.
Not a ton to reminisce about on the hip-hop front, but there were some notable shows, including Mos Def at Santa Clara University and Ice Cube in Santa Cruz. We also got a taste of Del tha Funkee Homosapien at Avalon, Tre Hardson and Fatlip (formerly of the Pharcyde) at the VooDoo Lounge, and two local performances by the godfather of hip-hop himself, KRS-One. And let's not forget the godfathers of nasty, 2 Live Crew, who brought foul lyrics and booty dancers to Agenda. Wonders never cease ...
Local Action
Lots of local bands made some strides this year, many of which we featured in our annual Rocktober issue. Campbell rockers Strata made the cover on the strength of their newest release, Strata Presents the End of the World. Jonny Manak is still the hardest-working man in the local punk scene, acting as a band leader and a multi-instrumental hired gun. Dave Miller gathered together an all-star band of local heavyweights he dubbed the Stout City Rockers, which released a CD (Found Alive) and performed live at the Blank. Otto, Manchester School, the Whiskey Avengers and Whiskey Sunday solidified their presence in the local venues.
Speaking of which, a bunch of new venues opened this year. Hunter's Nightclub brings the LGBT vibe to South First Street, and Motif makes upscale ever more accessible. South First Billiards built itself a little stage in the lobby area and now hosts live bands under the moniker The Underground Sound. The VooDoo Lounge is also experimenting more with live rock and hip-hop every week. MACLA opened its doors to the Cave, which hosts mostly all-ages rock shows, as does the Venue in Los Gatos. While it's not a new venue, San Jose Skate hosted a lot of all-ages shows this year thanks to Andrew Kutsenda, who is also booking all-ages shows at Nickel City Arcade and the Nova Hall. And of course there was also Music in the Park, which managed to rope in big names like Mandy Moore and Finger Eleven.
Perhaps most significantly though, 2007 saw the creation of South Bay Live, a working group of musicians, venue owners and other music industry stakeholders interested in enlivening the local live music scene. Their endeavor is a work in progress, but a good sign of things to come in the future.
Send a letter to the editor about this story.