12.31.08
home | metro silicon valley index | silicon valley restaurants | review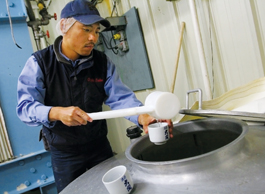 Photograph by Felipe Buitrago
SMOOTH AS RICE: Yoji Ogawa serves freshly brewed sake at Ozeki.
Sake Country
Hollister's Ozeki celebrates its run as America's first sake brewery
By Jessica Fromm
YOJI OGAWA leans over a large, cloth-lined tub and thrusts his hand into the snowy white mass filling it. Bits of white dust stick to his cuticles as he draws his hand up and opens his palm, revealing a handful of what looks like powdered, bloated bits of Styrofoam.
"Try it," he says. The granules taste starchy, but distinctively sweet. This, he says, is koji, rice that has been polished, steamed and left to sit to get a frosting of mold. Good koji is at the very heart of the sake-making process.
Ogawa is the assistant brewery master of Ozeki Sake (USA) Inc. It's his job to make sure the delicate, intuitive and often mystical process of sake brewing goes off without a hitch inside the large facility at the edge of the town of Hollister.
A sake brewery might not be the first thing you'd think to find in the farmland of San Benito County, but California is actually the largest domestic sake producing state in the country. Sake has been brewed in the United Sates since 1979, and Ozeki Sake is celebrating its 30-year anniversary this year as the first sake-making establishment in North America.
With sake consumption on the rise throughout the United States, the American-made rice wine industry has established itself as a competitor in the alcohol beverage market. In the 1990s, sake sales in the United States quadrupled. Gekkeikan Sake, based out of Folsom, Calif., reports that it has seen an approximate 5 percent growth every year since establishing its North American brewery in 1989.
Kathy Tran, co-owner of Koji Sake Lounge in downtown San Jose, said that she has witnessed firsthand sake's popularity, and the average customer's knowledge of sake, increase since they established the restaurant last year.
"When we first opened, it was really funny because the customers we got were all sake bomb customers, or hot sake customers," she says. "Nobody really knew about the cold premium sakes. Over the last year and a half, we've grown so much, and the people coming in here now are actually ordering it in the Japanese name, and that's really cool."
Surprisingly, the growing popularity of sake in the United States is the complete opposite of the trend in the beverage's home country of Japan. Sake, which used to be known as "the drink of the gods,'' is being pushed out of fashion by shochu, a stronger, earthier spirit distilled from sweet potato and barley.
Unlike wine, sake is best consumed fresh. Therefore, stateside facilities where sake can be brewed, bottled and sold to the American consumer swiftly were an essential part of many sake companies' U.S. expansion.
Before there were California-based sake breweries, all the rice wine in the United States had to be shipped from Japan. Because it sat around the hot belly of cargo ships and in distribution warehouses, sake often passed its nine-month shelf life by the time it made it to U.S. consumers. For years, many American consumers' first impressions of sake were actually of a product past its prime.
Kozo Yamamoto, president of Ozeki Sake (USA) Inc., says that Ozeki Sake chose Hollister as its American home for two reasons. It was between the then top 2 sake-consuming cites at the time, San Francisco and Los Angeles, and Hollister is also a convenient trucking distance from Sacramento, the largest rice market in the state.
"This was the ideal site for us," says Yamamoto. "The water we use is from the Sierra Nevada; it is deep well water. That was ideal to us too, because it's a little bit hard, and hard water is necessary for sake brewing."
Koji Sake Lounge stocks Berkeley-made Sho Chiku Bai sake as its house brand, which they serve up both straight and mixed into colorful sake cocktails.  "We wanted to go with a local company for our house brand, and it's a very quality house brand," says Tran. 
Though American-made sakes are attaining a place in the international market, they still have a reputation to build. Many rice wine connoisseurs consider American sake to be a midgrade-level product, while handcrafted Japanese sake is considered the cream of the crop.
Tran said that when people inexperienced in sake have tried the rice wine carried at their establishments, they are often shocked by how smooth and silky good sake is, and by the fact that it is usually best served chilled, not piping hot.
For Ozeki Sake (USA) Inc., whose parent company has been brewing sake in Japan for over 300 years, the future of the industry looks bright in America. Even with the current recession holding people back from making luxury purchases, sake sales are steady, and are projected to rise.
"American sake is good to start off with, and I think it's also a good stepping stone into the world of sake," says Tran. "There are a lot of brands that are made in the U.S. and Japan that are great to explore. As long as you're drinking sake, you're on the right track to getting to know really great sake."
Send a letter to the editor about this story.