12.31.08
home | metro silicon valley index | movies | current reviews | dvd review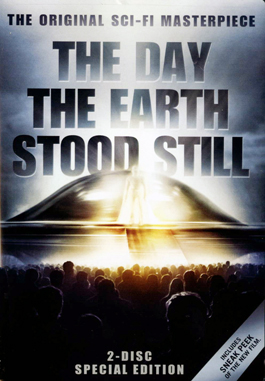 The Day the Earth Stood Still
Two Disc Special Edition; 20th Century Fox; $19.98
Reviewed by Richard von Busack
Posing as "John Carpenter" (why not "Christie Savior"?) a diffident alien, Klaatu, played by Michael Rennie, lands his flying saucer in the middle of some baseball fields near the Washington. D.C., mall, the better to warn Earth of the consequences of nuclear holocaust. Patricia Neal plays the sympathetic widow who takes this Carpenter into her home; Billy Gray is the annoyingly hyper son (he went on to become Bud Anderson on Father Knows Best). His backup is a large lumbering robot named Gort (a 7-plus-footer who appeared in a number of '50s sci-fi films), who responds only to the famous command "Klaatu barada nikto!" Robert Wise's 1951 black-and-white feature, destined to be remembered as the older, smarter version of this film, has the advantage of shimmering evocative music by Bernard Herrmann. And it's the model for the scientist vs. military 1950s paradigm as outlined in Peter Biskind's Seeing Is Believing. The film is ultimately a gabfest, though nice and left-wing, completely identifying with the then controversial peacenik Albert Einstein (and Sam Jaffe plays Einstein in everything but name). The print is especially crisp; the extensive extras include commentaries (among them, one by director Wise); a making-of documentary; a look at the ethereal sci-fi music machine the theremin; minibiographies of Harry Bates, whose story "Farewell to the Master" was the inspiration for the film, and prolific screenwriter Edmund North; and even a Fox Movietone News short from the period (with John Foster Dulles brandishing a map showing Russian imperialist depredations, and thus the link to the Fox News of today is firmly established).
Click Here to Talk About Movies at Metro's New Blog
Send a letter to the editor about this story.