12.31.08
home | metro silicon valley index | movies | current reviews | dvd review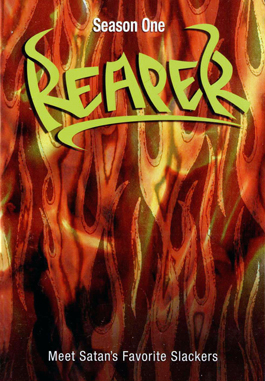 Reaper
Five discs; Lionsgate; $39.98
Reviewed by Michael S. Gant
I missed Reaper when it started in the fall of 2007 on the CW, but I doubt if I could have endured the commercials, which tear off more than a quarter of the hour's running time—and then the first season got interrupted for several months because of the writers' strike. Sans ads, however, Reaper turns out to be a highly amusing slacker comedy with a supernatural superstructure. A low-ambition type named Sam (Bret Harrison) lives at home and works at a big-box store named the Work Bench. He hangs with his equally low-bar-setting friends, Sock (Tyler Labine) and Ben (Rick Gonzalez), while pining after the lovely but skittish Andi (Missy Peregrym). The twist is that long ago Sam's parents sold his soul to the devil, who appears in the form of Ray Wise (Leland Palmer from Twin Peaks), a dapper, man-tanned trickster full of bonhomie that can quickly turn to brimstone. He demands that Sam go to work collecting escaped souls from hell. The pursuit of assorted aggrieved Infernoites involves the creative use of repurposed objects (like hair dryers and vacuum cleaners) known as vessels—fashioned, as the devil cheerfully explains, "in the bowels of perdition by the iniquitous and the vile." Once corralled, the souls must be deposited at a portal to Hades: the local DMV office. The real humor, however, comes from the shambling interplay of the twentysomething leads as they try to survive the real challenge of wage slavery in the new economy, restocking towering shelves (the show gets a lot of laughs out of the dangers of those floor-to-ceiling metal racks at Home Depot), goofing off in the stock room and misdirecting shoppers ("a satisfied customer is a customer who hasn't been maimed"). Labine, who played the wacky brother in the short-lived Invasion, is a comic revelation with his immense and richly undeserved sense of all-round superiority and sexual magnetism. Also outstanding is Donovan Stinson as Ted, the perfect exemplar of the clueless middle manager, full of exhortations, employee-of-the-month incentives and capricious dictates about the night shift. Working for the Teds of the world—now that's hell. The set includes 18 episodes plus some commentaries, extra scenes and bloopers.
Click Here to Talk About Movies at Metro's New Blog
Send a letter to the editor about this story.