12.31.08
home | metro silicon valley index | columns | style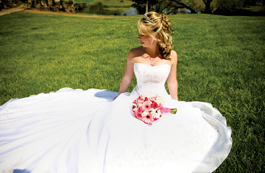 THE NATURE OF LOVE: More and more couples are choosing to make their weddings carbon-neutral, organic or otherwise eco-conscious.
Style
Brides Go Green
By Colleen Watson
WITH THE Wedding Faire taking over the Santa Clara Convention Center Jan. 3 and 4, wedding season is officially on. Every conceivable type of wedding vendor will be in one spot, making it easier to pull off what is becoming an increasingly fashionable phenomenon: the green wedding. With more and more people realizing that everything they do has an impact on the Earth, eco-awareness continues to spread to every facet of life. And with some recent high-profile practitioners like Alicia Silverstone, more and more weddings are going green.
One way to start is to buy a dress that has been worn before, or buy one made of organic materials like hemp, silk and cotton. These green fibers are just as beautiful and sumptuous as traditional dress material but are chemical and pesticide free. That goes for bridesmaids' dresses, too. Rene Geneva Designs, for instance, offers an earthy yet fashionable dress in which Peace silk, which is cultivated after the moths hatch the cocoon, is gathered up in many drapy layers. The golden sparkly hue is natural and chemical free. The rest of the dress is hemp silk, and biodegradable, too.
Organic and locally grown food are the in items for receptions. Many caterers will, by request, make the extra effort to ensure that all the food is made with organic, locally sourced and seasonal ingredients. As far as the cake goes, there are bakeries that specialize purely in organic goodies. Edith Meyer offers an organic cake that's almost too pretty to eat. The organic tiers are wrapped in dark chocolate and swirled with white chocolate. Sugar branches with edible cherry blossoms and buds climb the cake to its asymmetrical top.
Try using real dishes instead of disposable, or if that isn't possible, use biodegradable flatware and plates. Leftover food can be donated to a local homeless shelter. As far as libations go, several local wineries now have organic sections.
Most flowers are flown in from far away and use a plethora of pesticides, so a local, organic grower is the way to go. If that isn't possible, a florist can source organic flowers to have flown in. Or what about synthetic flowers that can be used again?
For party favors, true greenies are giving something Earth-friendly like a tree or seeds that guests can plant.
At this point, it's simply common sense to use 100 percent recycled paper for invitations and place cards, but why not take it one step further and write guests' names on leaves or rocks?
Of course, having a completely green wedding in an exotic, distant locale negates all that hard work, since guests will have a tough time getting there emission free. But staying locally can be more meaningful anyway, since it allows for an easy return to relive memories.
As for gifts, it's now easy to register for green goods, or the couple can ask guests to make a charitable donation in their names to a charity or a carbon-footprint-offset coupon. Oh yeah, and if this all sounds great but you just can't imagine planning all of this, there are now green-wedding coordinators who will.
Stressed-out couples should remember one doesn't have to be some kind of eco-savior to do some good. They can have a zero-waste wedding, or simply incorporate some green touches to offset some of their big day's carbon footprint.
Send a letter to the editor about this story.