Movies
Review: 'The 15:17 to Paris'
Clint Eastwood turns in another installment of patriot porn in his latest film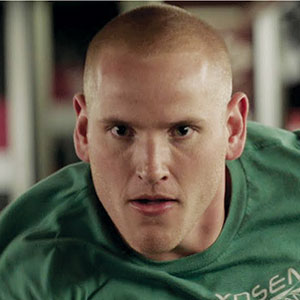 The miracle of cinema is that very aged directors can be youthful, and young directors can be querulous old fogies. Too bad the 87-year-old Clint Eastwood doesn't prove that equation in The 15:17 to Paris. The gimmick is that Alek Skarlatos, Spencer Stone and Anthony Sadler star as themselves in the reenactment of their thwarting of a terrorist attack by Ayoub El-Khazzani aboard the high speed Amsterdam-Paris express in 2015.
We're already aboard the train, with the bare-chested maniac popping out of the men's bathroom, pistol at the ready...and that's when we flash back to Sacramento. Once upon a time, Alek and Spencer—two of the three heroes in this film—were prankish single-parented kids; comediennes Judy Greer and Jenna Fischer are wasted in the bland troubled-mom roles. The boys are sent to Christian school, in scenes shot in so many shades of brown it's as if the administration had decided to ban color because it might incite Satan. There they meet their new pal Anthony, a much more assured troublemaker.
As a kid, Stone has a Full Metal Jacket poster on one wall—though that Kubrick film isn't exactly a love letter to the military. In one of several self-references, Eastwood puts up a Flags of Our Fathers poster on the boy's adjacent wall. (Stone also wears a T-shirt of Eastwood in cowboy regalia.) Stone is devout, praying St. Francis' prayer as a youth—"Lord, make me an instrument of your peace"—saying that he longs to join the Army so he can save lives. This is kind of a creative interpretation of the Army's mission.
Some defend The 15:17 to Paris as an example of classic, uninflected style by the grand old man. If it's true that Eastwood is a classic minimalist, it's surprising how uneconomical this film is. The emphasis on back story swamps the movie; it's like watching a version of Gunfight at the O.K. Corral in which two-thirds of the movie is about Doc Holliday's time in dental school.
Eastwood keeps repeating himself on the details and stranding us. It takes a few minutes to realize that what looks like a training exercise in Texas is meant to be an actual patrol in Afghanistan. All that wartime incident leads up to is the story of a lost hat.
It's clear why Eastwood leans toward Stone throughout the film, as he has a bit more natural presence on screen; he's easygoing and laconic in that way we like our Western heroes to be. The adult Sadler who introduces himself at the beginning of the story in voice-over, explains why a black man like him is hanging out with white boys. But then he gets neglected by the rest of the film. (At the end, during an awards ceremony in Paris, we finally meet Sadler's parents—it's as if the script wasn't sure Anthony had any parents up to that point.)
The film descends into paralysis as the three head for their date with fate at the end of a European vacation. The trip commences with an awkward Skype conversation between Stone and Skarlatos. The tour scenes might be a gentle critique of the American abroad; Sadler's wielding of the selfie stick becoming pretty much his only characteristic. The trio pose as Romans at the Coliseum, giving thumbs-down to the long-gone gladiators, as the soundtrack airs an accordion version of "Volare." While there aren't really any female leads in this film, Eastwood keeps upskirting; whether on the staircase at a Rome hostel or at the brass pole at an Amsterdam nightclub, the camera zeroes in on a series of foreign butts.
Eastwood's experiment of casting non-pros has precedents. Likely he recalls Audie Murphy starring in the filmed version of his wartime exploits, To Hell and Back (1955). The three real-life heroes acquit themselves, mostly—the casting is the least of this film's problems. Since there is so much filler here, it's a surprise that the director who spent so much time doing the back and forth between sides in Letters From Iwo Jima gives us so little about the opposite side of this incident—what drove El-Khazzani to a potentially suicidal act of terrorism?
Remember that empty chair Eastwood was addressing at the 2012 Republican National Convention? It's like Eastwood is gone, and the empty chair is directing the movie.
The 15:17 to Paris
2/10 stars
PG-13, 94 min.
Plays valleywide