Movies
Review: 'A Kid Like Jake'
Film about gender-fluid boy misses the opportunity to fully explore an interesting issue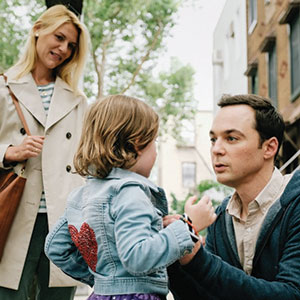 Almost all parents—even Homer and Marge Simpson—have dealt with the sight of their young child trying on cross-gender clothes. So the attenuated Brooklyn-set drama A Kid Like Jake has some meat to it, and a point. And the casting of Jim Parsons as the father, Greg, and Claire Danes as the mother, Alex, makes for an interesting dynamic.
She has a temper, and he apparently was born without one. She's a stay-at-home mom who leaned out of her career as a lawyer; he's a maddeningly correct psychiatrist. She can't even yell out her anger at him because he just says, "I understand."
The Wheelers have a well-off life in Williamsburg—lots of space and a stained-glass window in their flat. They're affluent enough to make the underearning viewers' skin itch. But there isn't quite enough money to send their kindergarten-aged son, Jake, to private school (itch, itch).
At least the couple has a good reason to make sure their imaginative and good-natured kid isn't bullied in a public schoolyard. Jake is fascinated with Cinderella and all the other Disney princesses, and he yearns to dress up as them for Halloween. The question facing them is whether Jake's behavior is just a stage, or whether it's time to start preparing the boy for a more fluid concept of gender.
Clueless adults complicate the situation. A new friend of the Wheelers' wonders aloud about whether Caitlyn Jenner is a lesbian now, or what; when babysitting, Alex's domineering mom (Ann Dowd) starts a fight over the kid's girlie choice in toys. Octavia Spencer—in an unusually non-working class role for her—is a friend advising the couple on Jake's admission forms for the hard-to-get-in private schools. She suggests Jake's "gender-expansive play" might be an excellent thing to mention, as it would make the kid diverse enough to stand out in the school application process.
A surprise pregnancy adds to the pressure on the couple.
Meditatively long establishing shots give the movie some New York texture, but they may just be here to fill out the running time. A Kid Like Jake seems to have been stretched out with scenes of Amy Landecker as Greg's patient, who is in the process of getting divorced after a long and failed stretch of IVF shots. Landecker is an interestingly sour presence in this, someone who chafes at the cold-fish way Greg treats his patients.
I enjoyed her scenes, but it wasn't clear where they were going with them. There could have been a more economical way of mirroring the Wheelers' problems—a way of reminding us that marriages split up over mixed views of child-rearing, or childlessness, all the time.
The poreless quality of Parsons—his character is described as "Switzerland," because of his neutrality—gives something for his wife to throw at him during the final blow-up. And the show starts to get into some serious strife when she says something unforgivable about why Jake turned out be what Greg terms "not exactly Johnny Basketball."
There are good barbed lines throughout, as when Alex's mom says: "Call me, I'm at the office. Remember what that was like?" The tempo makes the characters seem well-rehearsed. But we can't really see what Alex saw in Greg; they have dynamism but no chemistry. Parsons delivers his funniest line when Danes comes out of the bathroom with a pregnancy tester in her hand: "I'm sorry I'm so damn virile."
Director Silas Howard, formerly of the San Francisco band Tribe 8, underwent a female-to-male transition and became the first trans director on the show Transparent, for which he won an Emmy. He's working here from an off-Broadway play by Daniel Pearle, where Jake never actually got seen—Howard seems to suggest this motif by not giving the cute kid many closeups. The technique is a way to place the focus on the adult Wheelers' own problems. It also serves to make this an issue film that doesn't completely come to life.
A Kid Like Jake
PG-13, 92 Mins.
3Below, San Jose