Movies
Review: 'A Quiet Place'
John Krasinski makes a swift and silent directorial debut with new horror flick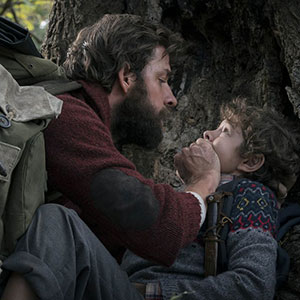 A farmhouse in Little Falls, somewhere in New England—some 400 days after they arrived. In the beautifully-built A Quiet Place, Lee (director/co-writer John Krasinski, of the US version of The Office), Evelyn, his pregnant wife (Emily Blunt) their hearing-impaired daughter Regan (Millicent Simmonds) and their young son Marcus (Noah Jupe), have made their home a fort against murderous extraterrestrials.
These invaders are eyeless and fanged, bipedal, but propelled along with crustacean limbs sharp enough to shred steel. Since you don't see them for long and live, they're more often heard than seen. It's a whickering, chittering sound, punctuated with hollow metallic sighs. These creatures have seemingly depopulated the rest of the world. They hunt by their excellent hearing. Outwitting them means walking barefoot or on tiptoes, on sand-lined paths, and communicating to others with sign language. It also means bottling up the scream you want to let out when you see them on your trail.
Ingenious as it is, A Quiet Place isn't completely unique; the importance of not breaking silence is a feature of films as different as Tex Avery's cartoon "The Legend of Rockabye Point," Das Boot, and Guy Maddin's Careful. The finale is spun from all versions of War of the Worlds, with the survivors cowering in a basement as the place is patiently searched by hunters.
Though accompanied with a rich score by Marco Beltrami, A Quiet Place communicates the power and simplicity of the silent cinema. Krasinski's air of sympathy makes him perfectly cast—no one here, after the world ends, is an action hero or a commando. They're just as brave as they have to be. Observe the tender rapport between Evelyn and her gentle son Marcus.
Evelyn knows what she's fighting for: as she home-schools her son, we see on her whiteboard a diagram of the beats in Shakespeare's Sonnet 18. As for Simmonds, I've only seen her in two films, and she's already a favorite; as in Wonderstruck, this deaf performer impresses with her clarity and force. When her father and brother leave her behind on an errand, she gives a look of scorn you can almost hear. That look is almost audible enough to draw the alien beasts.
A Quiet Place
PG-13, 90 Mins
Valleywide