Movies
Review: 'A Star is Born'
Lady Gaga rises and Bradley Cooper descends in this reboot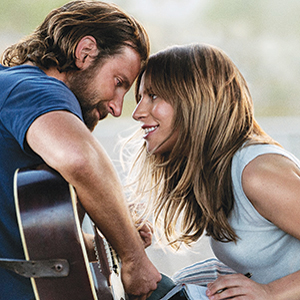 How over the moon you are about A Star is Born depends on how gaga you are about Lady Gaga. The likely winner of the next Best Actress Oscar isn't at all bad. She acquits herself. We can believe Gaga as a nobody: "My nose is too big," Gaga's character Ally says, parroting the music executives who stalemated her career. Despite her interesting, complicated mouth and the large hazel eyes, it's easy enough to suspect she's been dismissed as sings-10, looks-3.
And star, singer, co-writer and novice director Bradley Cooper takes a low-key attack on this thrice-filmed melodrama's material. As the self-destructive roots rocker Jackson Maine, Cooper is generous with his own closeups. He gets decadent fast, crunching pills with his bootheel and drinking whiskey out of the bottle. After a stint in Malibu rehab, he leaps up from the swimming pool water, reborn, showing off a torso worthy of a Renaissance statue. Cooper tries, with some success, to rejuvenate the elderly material about a rising star who falls in love with an older legend. She surpasses him, even as he's pulled down by his substance abuse.
A Star is Born begins in blackout with the ambient roar and whooping of a rock show. The camera is almost always on stage with Jackson and Ally, giving us their view. Yet this tale of superstars takes place in a bubble without much entourage.
Honore de Balzac said that you could tell you were famous when the grocer embraces you, and here a grocery store cashier stops to take a picture of Jackson. We get a better idea of the level of Jackson's fame than his identity as a musician: His would-be showstopper is a Townes van Zandt-style song, "The Shallows," accompanied by Ally, whom he pushes in front of a microphone at a giant outdoor concert. (Real talents never need to rehearse.) We also have a better idea of who Jackson was rather than what he is now: Sam Elliott is Jackson's angry off-again, on-again manager (and half brother) providing the story of the decadence of their shared past.
The relatively low budget (under $40 million) must excuse the lack of background, both in the unseen faces of the fans and the confusing geography. No matter who she's playing, it's hard to imagine Lady Gaga as anything but a New Yorker. This East Coast style is reinforced by her slightly shady outer-boroughs father (Andrew Dice Clay), in the livery business with his black suit-clad buddies who are somewhere between the Goodfellas and the Seven Dwarves.
We're also seemingly in New York in the first meeting of Jackson and Ally at an east-side drag bar where Cooper stops by chance for a way-home round. There, he's dazzled by Ally posing as a drag queen, covering Piaf's "La Vie en Rose." After the show, Ally warbles a capella in a supermarket parking lot, and Jackson instantly realizes her major talent.
The love scenes with their half-spoken lines work better than anything in the film. The words between the lovers seem fresh and unscripted. Gaga and Cooper are attractive opposites, short and tall, gruff and femmy; the scenes of his return from rehab are very touching and tentative.
But the music doesn't stick with you, and as director Cooper seems not to have any opinion about whether the evolution of Ally's sound is good or bad. As Ally gets big enough for Sunset Boulevard billboards, she becomes more artificial, more covered with cosmetics, more built for the giga-stage of the L.A. Forum. She's molded by a sinister British record company exec, Rez (Rafi Gavron). As in every musical melodrama, this is the one person in the world who can make or break a singer.
Ally puts up a fight for Jackson; she's true blue to the end. Cooper credibly shows the humiliations of a hard drinker. But the same problem Pauline Kael identified in the '76 version is back: Rather than being utterly destroyed, a star who disturbed the faux-solemnity of an awards show by a boozed-up scene would be beloved by nihilists everywhere, rather than shunned by all. This A Star Is Born is like movie night at the rehab clinic: all the shame of drunkenness and none of the elation.
A Star is Born
R; 135 Mins.
Valleywide