Movies
Review: 'All is True'
All the world's a stage in this imagining of the late William Shakespeare and his family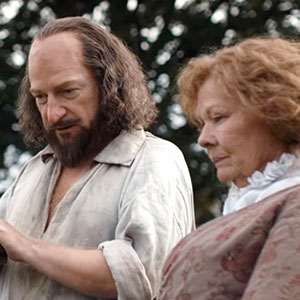 What are we, then, naive groundlings who'd take a title like All is True at face value? Kenneth Branagh's story of the last three years of Shakespeare's life indulges in a fantasy many have had. Perhaps second only to the dream of shooting Hitler is the wish that one could have gone back in time and somehow thanked that supreme writer.
It is 1613: the Globe theater is destroyed by fire during a production of Henry VIII (also titled "All is True"). Shakespeare (Kenneth Branagh) leaves London to go back to the small town he was raised in. His wife, Anne Hathaway (Judi Dench), has been doing fine without him during his long absence. She buried their 11 year old son, Hamnet, without the help of her husband. The writer has two daughters; the angry, unmarried Judith (Kathryn Wilder) and her sister, Susanna (Lydia Wilson), lovelessly married to a puritan. (Branagh underscores the irony that this son in law, whose faith demanded the closure of the theaters, was Shakespeare's heir.) As the Bard endures the anger of his family, he receives a surprise visit from his former patron, the Earl of Southampton (Ian McKellan).
It's uneven but worthy work, with Branagh believable and vinegary as a man making amends. With Warwickshire accent, and lacey wrinkles matching the lace around her throat, Dench evokes both gentleness and indomitability. It includes a charming interpretation of the famous story of the second-best bed, as well as a guess at how Susanna triumphed over an accusation of adultery. (In this telling, Will saves the day by frighting the accuser with false fire, to paraphrase Prince Hamlet.)
The film's downside: the business about Judith and Hamnet that strays into the "wrong son died" melodrama (as per Walk Hard).
How true this story isÉ wellÉ Whether people would have come to Shakespeare and praised him as the greatest of all minds on earth—that seems a too-pretty fantasy. Certainly Shakespeare would have found a more elegant way to say "Family is everything" than in just those three words, as Branagh does here.
The pearl here is the meeting of the two great living interpreters of the Bard, when Branagh and McKellan trade recitals of Sonnet 29. Scenes of actors reading a well-known poem facing the camera almost never works on screen. Such is the poem and such are the actors that the moment is thrilling.
All is True
PG-13, 101 Min.
3Below Theaters & Lounge