Movies
Preview: 'An American Story: Norm Mineta and his Legacy'
New documentary profiles the former Cabinet member and San Jose Mayor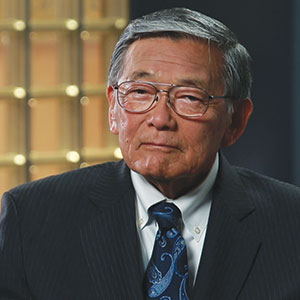 Norman Y. Mineta: more than just an airport. The retired career politician has no plans to write an autobiography—"Naw, nobody cares," he told filmmaker Dianne Fukami. Thus, the hourlong documentary An American Story: Norm Mineta and His Legacy is a handy outline of one remarkable life.
He was congressman, long-serving Cabinet member, and mayor of San Jose—the latter was his favorite job, he claims.
Documentary maker Fukami previously made Stories from Tohoku, about the 2011 tsunami in Japan. "You grow up Japanese-American in the Bay Area—or even grow up Asian-American—and the story of Norm Mineta is familiar," Fukami says. "A very long time ago, I thought, 'Wouldn't Norm be a great subject for a documentary?' But he's very self-effacing, and he never wanted to do it. I was talking to him over the last seven years, exchanging pleasantries. He finally said, 'It's time to do this.'"
She told the 86-year-old Mineta: "There are a lot of producers out there who are going to want to do your story, and they might be better and more powerful than me." Forewarned, Mineta sat in a series of interviews at his home in Silver Springs, Maryland.
Mineta was born and raised in San Jose, the son of immigrants. World War II hysteria about Japanese espionage led to the rounding up of Japanese-Americans and the seizing of their property. Mineta and his family were put behind barbed wire at Heart Mountain in Wyoming, as were some 14,000 other internees.
When the war was over, Mineta enrolled at San Jose High School—"He was treated like nothing had ever happened during the war. It was a very diverse school." The 5'6" Mineta played on the varsity basketball team. He may not have been tall, but he was a jumper, practicing leaps at home. Such is the importance of trying hard, he says, a lesson Mineta's children have heard before: "We're so tired of listening to that 'try hard,'" complains one of his sons on camera.
Mineta, who served as secretary of commerce under Bill Clinton and secretary of transportation under George W. Bush, is particularly proud of one accomplishment: HR 422, the Civil Liberties Act, providing for reparations for Japanese internees. As a congressman, Mineta persuaded the reluctant President Ronald Reagan to sign the bill with help from an old friend, then-senator from Wyoming Alan Simpson. The two had once shared a tent at a Boy Scout jamboree when they were both 11, and the friendship revived once Mineta came to Washington, D.C.
Fukami says, "They and their wives all go on cruises. You should see 'em, they look like Mutt and Jeff. Simpson towers over Norm, and calls him 'My little buddy.' It tickles me to watch that. They giggle like 10-year-old boys."
Fukami has a point to make. Simpson is a Republican. As a Cabinet member who served both parties, Mineta represents an alternative to the binary politics currently poisoning the national discourse.
"That's why Norm will be coming out to this screening, health permitting," Fukami notes. "He wants to remind Americans about civic duty and bipartisanship. He wants to know why these things can't come back."
You'll see Mineta wearing an American flag lapel pin, but he wears it for a different reason than most. Fukami observes, "Norm talks about getting into an elevator and getting the look—'You know, those times when you see people and they don't know you...there are times when I feel like a foreigner in my own country. I want them to know I'm an American too.'"
Mineta's story has its own relevance today, as Muslim bans represent the same kind of deep political thought that urged the U.S. to wall up Japanese immigrants to protect the homeland against spies. His life makes for one inspirational story. Fukami hopes to make her documentary available as educational curriculum and to submit it to PBS for broadcast next year.
An American Story: Norm Mineta and his Legacy
May 10
CAAMFEST1
Castro Theater, San Francisco